Renfrewshire couple 'died crossing rail line'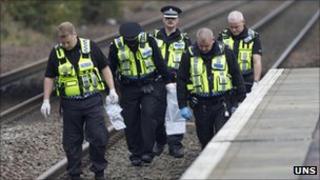 A couple who died at a railway station may have been crossing the tracks to catch an approaching train.
They were hit by a train at Milliken Park station in Johnstone, Renfrewshire, at 20:30 on Wednesday.
The couple are thought to be a 28-year-old man from Renfrew and a 25-year-old woman from Paisley.
In a separate incident, another person died after being hit by the 18:30 Glasgow to Edinburgh service at Linlithgow Station on Wednesday night.
British Transport Police (BTP) said none of the deaths were being treated as suspicious.
A spokesman said of the Renfrewshire incident: "BTP were called to Milliken Park rail station, Johnstone, Renfrewshire, on Wednesday, 12 October following reports of two people being struck by a train.
"Officers and colleagues from Strathclyde Police attended the incident, which was reported at 8.30pm and is currently being treated as non-suspicious.
"Paramedics from the Scottish Ambulance Service also attended and discovered a man and a woman had been struck by a train.
"The man, believed to be 28-years-old and from Renfrew and a woman, believed to be 25-years-old and from Paisley, were pronounced dead at the scene.
"From investigations so far, officers believe the two involved had trespassed onto the line to gain access to one platform from another.
"A full report will be submitted to the local procurator fiscal."