Braehead centre issues apology over photo row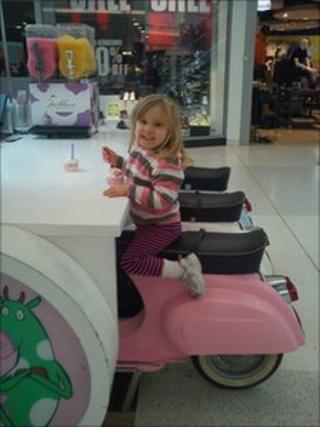 The shopping centre which called in the police after a man took photographs of his daughter eating an ice cream has apologised for any distress caused.
Braehead Shopping Centre, near Glasgow, also said it was changing its policy on photography.
In future, it will not try to prevent family and friends taking pictures of each other in the mall.
Chris White was challenged by a security guard after he took a snap of his four-year-old daughter Hazel.
He was told that it was illegal to take pictures in the centre.
Mr White told BBC Scotland he was approached by a security guard after photographing his daughter "looking cute on the back of a vespa seat at an ice cream bar" at about 16:00 on Friday.
He said the security guard asked him to delete any photos he had taken from his mobile phone.
Terrorism Act
Mr White explained that he had already posted two photos, in which his daughter was the only person in the shot, to Facebook.
The police were called and Mr White was told there were "clear signs" saying no photographs were allowed.
Mr White said that one officer claimed that under the Prevention of Terrorism Act he was within in his rights to confiscate the mobile phone on which the photos were taken.
He said the police officers took his details and he was eventually allowed to leave.
More than 17,000 people gave their support to the campaign page which was set up on Facebook after the incident.
Supt George Nedley, of Renfrewshire and Inverclyde division, said: "I can confirm we have received a complaint regarding this incident and one of my senior officers has spoken to Mr White regarding this.
"As a result a full review of the circumstances surrounding the incident and the allegations made is under way."
Explaining the change of policy, a spokesman for Braehead said: "We have listened to the very public debate surrounding our photography policy and as a result, with immediate effect, are changing the policy to allow family and friends to take photos in the mall.
"We will reserve the right to challenge suspicious behaviour for the safety and enjoyment of our shoppers.
"We wish to apologise to Mr White for the distress we may have caused to him and his family and will be in direct contact with him to apologise properly."