Cyclists take part in Stirling 'bike train' commute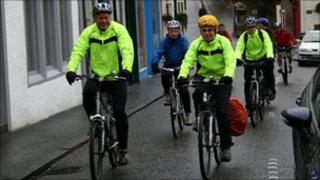 A "bike train" has been launched in Stirlingshire to encourage commuters to cycle and to make their journeys safer.
The group will ride together on a set route between Dunblane Train Station and Stirling University, three days a week, at commute times.
The Cycle Stirling project, which is part of Going Carbon Neutral Stirling (GCNS), aims to increase cycling in the area by 50% and cut car use.
If popular, the six-week trial may be rolled out to include more routes.
GCNS said it would also like to run the bike train more frequently.
It may also offer commuter training to bike train participants, to boost their confidence in traffic and to increase their safety.
Reducing emissions
A cycle leader course is to be made available, to help increase the long-term viability of the bike train.
Gavin Smith, of Cycle Stirling, said: ''Motor vehicles contribute to 27% of greenhouse gas emissions.
''Our aim is to reduce this contribution by encouraging people to remove their unnecessary car journeys.
''An unnecessary journey is one that is can easily be accomplished by bicycle and is indeed often faster. ''
The campaign also aims to highlight the benefits of cycling on general health.
Mr Smith said bike train commuters could expect to "half their risk of heart disease, burn up to 1,800 calories a week during the cycle and live longer".
Bike trains, sometimes called bike buses or cycle trains, have been trialled in other cities across the UK and have been shown to increase the confidence of cyclists, as well as introduce a social element to the commute.
The Stirlingshire trial, which started on 10 October, runs on Mondays, Wednesdays and Fridays, leaving Dunblane Train Station at 08:15, and returning from MacRobert Arts Centre at 17:15.