Funeral for Battle of Britain ace Wallace Cunningham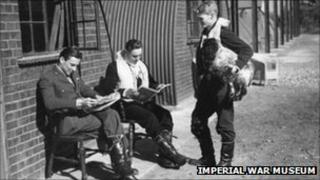 A funeral service has been held in Glasgow for a Scottish World War II Spitfire pilot.
Wallace Cunningham, 94, was among Churchill's famous "few" who took part in the Battle of Britain.
During the summer of 1940 he destroyed five German aircraft and was awarded the Distinguished Flying Cross. He later spent three and a half years as a prisoner of war.
He died at his retirement home in South Lanarkshire last week.
In a speech in August 1940 Winston Churchill famously said about the Battle of Britain pilots: "Never in the field of human conflict was so much owed by so many to so few."
Mr Cunningham, who was born in Glasgow in 1916 and attended Govan High School, joined the RAF Volunteer Reserve in 1938 and trained to fly at Prestwick.
On the outbreak of war in 1939 he was called up for service and after completing training was posted to 19 Fighter Squadron, based at Duxford in Cambridgeshire.
Dr Jeremy Crang, a historian based at the University of Edinburgh, gave a eulogy at his funeral.
He met the Battle of Britain pilot in the late 1990s and became good friends with him after persuading him to speak to some of his history students about his wartime experiences.
He said: "19 squadron was to become part of Douglas Bader's famous 'Big Wing' during the Battle of Britain and Wallace was in the thick of the fighting.
"During that epic summer he destroyed five German aircraft, making him an Ace.
"It's interesting that was the first Glasgow airman to be awarded the DFC in the Second World War. The citation actually reads that 'Pilot Officer Cunningham...has shown great personal gallantry and splendid skill in action'. "
In 1941 Mr Cunningham's Spitfire was shot down and he crash landed on Rotterdam beach in the Netherlands.
Dr Crang added: "He came to rest close to a German gun post and in the officers' mess there he was given a tomato sandwich and a glass of champagne, and a German major said to him 'for you the war is over'."
Mr Cunningham spent most of the next three and a half years in Stalag Luft III, the camp made famous by the Great Escape.
After the war he worked as an engineer, firstly in Kent, then he returned to Glasgow in 1960.
Dr Crang said: "They are not very many of the 'few' left. Wallace was a very modest and unassuming man. He would never have regarded himself as a war hero.
"But he was a hero and as long as the epic events of the summer of 1940 are remembered, he too will be remembered.
"I think we owe him and his comrades an enormous debt of gratitude."
After the funeral service at Linn Crematorium, near Glasgow, there was an RAF flypast in honour of Mr Cunningham.