More amateur windsurfers join Tiree Wave Classic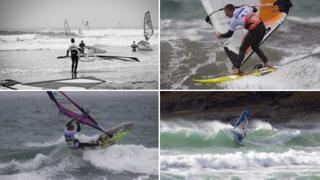 A record-breaking number of amateur windsurfers are taking part in the 25th Tiree Wave Classic competition.
About 50 competitors are taking part in the week-long event - including almost 40 amateurs.
The competition, which runs until 14 October, has been held on the remote Hebridean island every year since 1986 and is respected across the world.
Farrel O'Shea, Nik Baker and Duncan Coombs are among past legends who are taking part in this year's event.
Event organiser Jim Brooks-Dowsett said: "You've got to make the effort to come here but thanks to the Wave Classic over the years people have found out about this place and it has become one of the most sought after destinations to windsurf.
"It is competitive - there's a couple of guys fighting for the top spot so they can graduate and join the professional tour for next year - but the amateur focus is really for people to enjoy themselves and have fun."
One amateur taking part is Stuart Kelly, from Dunoon, in Argyll.
"I think it's especially popular this year due to it being the 25th anniversary of the classic," he said.
"There's a lot of guys who've been coming up for a long time and it's a bit of a homage for them to come and see all their pals from over the years and it's such a beautiful location with great conditions."
The Tiree Wave Classic is the third of four events in the BWA (British Wavesailing Association) Wave Tour.
BWA chairman Nigel Treacy said: "We're absolutely stoked to see so many legends returning, but more importantly to see so many new faces here as well.
"Whilst it's a notoriously challenging venue, the team work hard on making sure rookies are welcomed and well looked after."
Perfect stage
The competition, which is the longest-standing windsurfing event in Britain, is funded by EventScotland in association with Argyll and Bute Council.
The prize fund guarantees the top pro-surfer £1,000, as well as prizes for the other fleets participating.
Paul Bush OBE, chief operating officer at EventScotland, said: "We are delighted to be supporting the Tiree Wave Classic for the eighth year as it celebrates its 25th anniversary.
"It is great to see the increasing attraction of Tiree as a water sports destination as it has certainly proven over the years to be a perfect stage for this event."