Objectors to Hunterston coal power plan near 20,000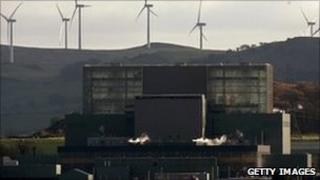 A consultation on controversial plans for a new coal-fired power station at Hunterston in Ayrshire ends on Friday - with objections nearing 20,000.
Ayrshire Power wants to build a plant with experimental carbon capture and storage (CCS) technology at the site.
Campaigners claim the plant would harm wildlife and the environment and say thousands of people are opposed to it.
Ayrshire Power said it believed many objections had come "from people who do not even live in Europe".
The proposals, by Ayrshire Power, which is owned by Peel Energy Ltd, are for a site between the existing Clydeport coal handling facility at the Hunterston Terminal, and the Hunterston B nuclear power plant.
Jobs claim
By using CCS, damaging carbon emissions would be captured, turned into liquid and stored underground on site, if that technology can be proven.
The energy company also claimed the new power station would generate a "significant" number of jobs in the area, with up to 1,600 people being employed during construction and another 160 in permanent jobs when the power station is running.
Mike Claydon, project manager for Ayrshire Power, said: "The Ayrshire Power project is consistent with UK and Scottish government policy to have a balanced portfolio of low carbon electricity generating capacity which includes coal with Carbon Capture and Storage.
"The Ayrshire Power project represents significant economic opportunities for Scotland and North Ayrshire.
"Ayrshire Power is pleased that many local people took time to attend the recent public exhibitions held in Largs and Millport to learn more about the Hunterston CCS project.
"While there may have been a large number of individual objections to the project we believe a significant proportion of these objections came from people who do not even live in Europe, never mind Scotland.
"It is almost certainly the case therefore that they have little understanding of the Ayrshire Power proposals for Hunterston to which they object."
A judicial review is currently challenging the Scottish government's decision to include the planned facility as a National Development in the National Planning Framework.
'Backward proposal'
Several organisations opposed to the scheme have formed a coalition in an attempt to have it halted.
Dr Richard Dixon, director of WWF Scotland, said: "With this huge public outcry, it is clear that a new coal-fired power station at Hunterston is not only unnecessary but it is also deeply unpopular.
"We urge North Ayrshire Council and the Scottish government to listen to this growing groundswell of opinion and reject this backward proposal.
"Scotland does not need new coal, improved energy efficiency and increased use of Scotland's wealth of renewable energy is more than adequate."
Tim Cowen, co-chair of Conch (communities opposed to new coal at Hunterston) added: "Local opposition to the plans to build a dirty-coal power station remain undiminished.
"Local people are angry - the proposed coal station makes a mockery of Scotland's climate change targets and will damage public health. It would devastate a beautiful coastal area heavily reliant on tourism."