Sit-in as Royal Conservatoire of Scotland sets fees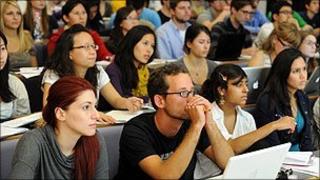 Students have staged a sit-in after the Royal Conservatoire of Scotland (RCS) set its tuition fees for students from outside Scotland at up to £36,000.
The board of governors agreed that annual undergraduate fees be set at £9,000 for non-Scottish students.
Students from the rest of the UK will pay a comparable amount to those at similar institutes in England.
Fees match charges in England for three and four-year undergraduate degree courses in music and dance.
However, a group of about 30 students said they would stage an indefinite sit-in to protest at the decision.
A spokesman said: "We believe that education should be public and free for all.
"To this end we demand that the RCS and other universities and higher education bodies express their opposition to education cuts and withdraw fees for all courses.
"We also demand that the university (should) pledge not to privatise or cut courses, or introduce compulsory redundancies."
The proposed fee was said to reflect the exceptionally high cost of programme delivery in Conservatoires, which substantially exceeds the £9,000 fee.
'Viable option'
The institute provides courses in music, drama, dance, production and screen.
It said it already operates an extensive scholarship programme and will, from 2012/13, introduce additional scholarships for non-Scottish undergraduate students.
Scholarships will be targeted at those who will benefit from them most and will therefore be means-tested.
Principal John Wallace said: "We will continue to welcome students from England, Wales and Northern Ireland to our Conservatoire, to our city and to Scotland.
''We are committed to ensuring that the Royal Conservatoire of Scotland remains an attractive and viable option for students from the rest of the UK who greatly enrich our academic and artistic community.''
NUS Scotland President Robin Parker said: "We fully reject charging for degrees and any increase in tuition fees is clearly bad for students.
"Fees make going to university a financial decision rather than an academic one and that can only be a bad thing.
"We're disappointed in this move but given degree lengths are usually the same in Scotland and England this should at least mean Royal Conservatoire of Scotland degrees are at the same level as degrees at similar institutions down south."