Police record a rise in 'Old Firm domestic abuse' cases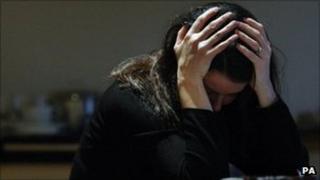 The number of reported domestic abuse incidents increased in the aftermath of the Old Firm game on Sunday, Strathclyde Police have said.
The force recorded 142 cases compared to 67 on an average weekend. The average on an Old Firm weekend is 107.
Police also said there were 18 serious assaults. The average when Rangers and Celtic play on a Sunday is 23 and eight when there is no Glasgow derby.
The match at Ibrox Stadium on Sunday finished 4-2 to Rangers.
In the run up to the game, police and prosecutors warned that people committing domestic violence would be "robustly" dealt with by the courts.
It came after figures published earlier this year showed "a clear link" between the game and a rise in domestic abuse cases.
'Unacceptable levels'
A spokesman for Strathclyde Police said: "These are not just a set of statistics about crime in the west of Scotland on an Old Firm weekend. Behind every one of the numbers is a victim, a family and a community blighted by the violence that, sadly, is still attaching itself to this fixture.
"This was exactly why we called for the formation of the Joint Action Group back in March.
"It wasn't because of the behaviour of the players on the pitch or the managers on the touchline. It was because we felt that something had to be done to tackle the unacceptable levels of violence that, unfortunately, we have seen again this weekend."
The force said it would continue to work with its partners in government and in football to find solutions to the problem.
Mhairi McGowan, from Assist, which works with victims of domestic abuse, said: "For the first time in our seven-year history we have had to tell the courts that we have been unable, due to volume of people referred to us, to give them the information they need prior to court starting this afternoon.
"Never before has that been the case.
"However, I also have to say that I am very pleased that so many people have come forward and reported domestic abuse incidents to the police, and that is a positive."