Stabbing in Glasgow filmed on mobile phones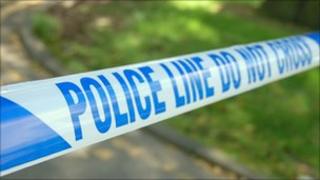 A man was stabbed after a night out celebrating his 21st birthday, as onlookers filmed the attack on mobile phones.
Strathclyde Police said the assault happened in Glasgow city centre at about 03:00 on Sunday.
The man had left the Tunnel nightclub and was standing outside on Mitchell Street when an altercation broke out between him and a man and a woman.
The victim was stabbed before being chased towards St Vincent Street.
He was taken to the Glasgow Royal Infirmary where his condition was described as serious but stable.
Police are treating the attack as attempted murder.
Detectives have been studying CCTV images which shows many of the people outside filming the attack on mobile phones.
Det Insp Fil Capaldi said: "A young man, out celebrating his birthday, has been violently attacked for no apparent reason.
"We have still to establish a motive for this assault. However, we know that this incident was captured, not only on CCTV, but also filmed by numerous people who were stood outside the club when the attack was taking place and there's no doubt this footage would assist our investigation.
"I would urge anyone who was there, particularly those filming it, to contact police as a matter of urgency."
Clutch bag
The first suspect was a woman, aged between 25 and 35, of slim build. She had dark shoulder-length hair and was wearing a light top with short sleeves and dark jeans. She was also carrying a silver clutch bag.
The second suspect was a white man, aged between 25 and 35, of heavy build.
He had short dark hair and was wearing a light shirt and dark jeans. He also had a black belt which may have been used in the attack.
Det Insp Capaldi added: "I would appeal to anyone who was in the area to get in touch. It's possible someone may have seen the man being chased by the two suspects and I would ask people to please come forward.
"Even if you think your information is not important, it could prove to be a vital link in this inquiry."