Sir David Murray and the fall of Rangers Football Club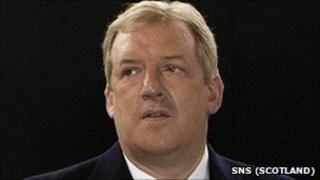 By the early 1990s, Rangers was the undisputed Titan of Scottish football.
On the field, the club was on its way to nine consecutive league titles and numerous cup wins.
Off the field, its modern stadium, low debt and unmatched financial power looked to have cemented an unbreakable stranglehold on the Scottish game.
How then did it fall into financial ruin in less than 20 years? Some answers can be found by looking at the reign of former owner Sir David Murray.
Although Craig Whyte was at the helm when Rangers went under, many of the club's financial problems can be traced back to the latter half of Murray's near 23-year tenure.
Rangers momentum
The entrepreneur bought the Ibrox club in November 1988 for £6m from Lawrence Marlborough.
Aged 37, he was one of the richest men in Scotland through his thriving metals business.
Although Celtic had just won the league, Rangers was the club with momentum.
Its all-seater stadium, which had been built in the 1970s after the Ibrox disaster claimed the lives of 66 people, was the most modern in Scotland.
The club's finances were sound and, on the field, it had emerged from a dreadful decade of under-investment and failure to win the league in 1987/88.
During the early years, the club's main rival, Celtic, was in a shambolic state and came within minutes of administration in 1994 before Scots-Canadian entrepreneur Fergus McCann bought it over.
As McCann began the long task of building an all-seater stadium and a team to challenge for honours, Rangers forged ahead under Murray's leadership.
He sanctioned transfer spending and wage payments previously unheard of in Scottish football.
This saw Rangers reverse the flow of talent drain from Scotland and sign players of the calibre of Brian Laudrup and Paul Gasgcoine.
Murray also appeared to have the Midas touch in keeping the cash rolling in.
He was successful in levering in multi-million pound investments to Rangers from ENIC and South African-based Scots businessman Dave King.
Under Murray's stewardship, Rangers won a total of 15 league titles and 26 cups - the bulk of these coming during the 1990s.
This dominance, especially in the first half of his tenure, meant Murray was effectively immune to criticism.
He held sway over a largely unquestioning support, and a Scottish media which reported his pronouncements with the minimum of scrutiny.
'Dangerous cocktail'
Who could forget such statements as: "For every five pounds Celtic spend, we will spend ten."
This cocktail of ego, success and unquestioning support, saw Murray sanction moves that would eventually push Rangers to the edge of the financial precipice.
When Celtic ended Rangers' domestic run of nine consecutive league titles in 1998, Murray responded in typical fashion.
Dutchman Dick Advocaat was brought in to replace Walter Smith and a new team was assembled at enormous cost.
During this time a new training complex was built as Murray attempted to position Rangers for a serious tilt at European glory.
Two league titles and three cups followed but the immediate cost was a ballooning debt figure.
In 1999, this prompted the Bank of Scotland to secure a charge over Rangers' income and assets.
This "floating charge" would become hugely significant in the story of Rangers' takeover by Craig Whyte and eventual insolvency.
When Martin O'Neill's Celtic ended Advocaat's success in 2001, Rangers' debts were approaching £50m.
It was around this time that Murray sanctioned the use of Employee Benefit Trusts (EBT) to minimise the club's tax liabilities for employees.
Essentially these meant that payments using EBTs did not incur tax and National Insurance contributions.
Tax strategy
The problem was, this tax strategy was intended to be used for non-contractual payments to employees.
The tax authorities would eventually argue that Rangers used the scheme to make contractual payments to players.
It would be 10 more years before this ticking time bomb went off, bringing with it the full force of a decade's worth of alleged underpayments and penalties.
In the meantime, Rangers carried on through alternating periods of on-field failure and success.
With debt now approaching £80m in 2002, Murray stood down as chairman and handed over running of the club to John McClelland.
He returned to the hot seat two years later to spearhead a £57m share issue, designed to wipe out a debt burden which had seen Rangers downsize their previous on-field ambitions.
About £51m was raised from the share issue, but £50m of this was underwritten by Murray and effectively transferred off Rangers' books into his company, Murray International Holdings (MIH).
Perhaps realising the extent that Rangers had become a personal and financial drain, Murray announced in July 2006 that he was ready to sell the club. It would be some time, however, before he would find an exit.
Later that year, Murray announced that Rangers had agreed a 10-year licence agreement with sports retailer JJB Sports.
The club received an initial payment of £18m, with a guaranteed minimum annual royalty of £3m.
This allowed Murray to further reduce Rangers' debt, which was said, by late 2006, to be just under £6m.
This deal coincided with a turbulent on-field period for Rangers which saw Alex McLeish replaced as manager in summer 2006 by the Frenchman, Paul Le Guen.
It was not a successful transition, however, and Le Guen exited in January 2007 to be replaced by Walter Smith.
His second spell as Rangers manager saw the club rebound strongly on the field, but the initial expenditure to assemble a competitive squad saw the club's debt spiral back up to around £30m.
Eventual moves to control costs at Rangers prompted Smith to state in October 2009: "As far as I'm concerned the bank is running Rangers."
To make matters worse, the credit crunch in 2008, and ensuing economic downturn, hit Murray's other business interests hard.
Tax demands
By 2010, MIH had suffered a £175m loss, prompting Lloyds Banking Group (which took over the ailing Halifax Bank of Scotland) to double its ownership stake in the company.
The effect was to cut off another escape route for Rangers through financial help from MIH.
If things appeared bleak, they were about to get worse.
In April 2010 it finally emerged that Rangers was facing tax demands from Her Majesty's Revenue and Customs (HMRC) over their use of EBTs.
For more than a year, Rangers sought to dampen concern about the story, saying it had been given expert advice about the legality of its tax strategy.
The club pointed out it was contesting the bill in a First Tier Tribunal (FTT) and was "confident" of winning the case.
As this issue cast a shadow over Rangers, a bid to buy the club led by London-based property developer Andrew Ellis failed in June 2010.
He was to become a member of the Craig Whyte-led consortium, which bought Murray's 85% share holding for £1 in May this year.
It later emerged that Whyte paid the £18m debt to Lloyds through his company, Wavetower, which was later renamed The Rangers FC Group Ltd.
This meant he enjoyed the legal protection of the "floating charge" and as Rangers' largest secured creditor would be paid first in the event of any insolvency.
Following the takeover, Whyte promised a new era for Rangers through an immediate injection of working capital and a "front-loaded" £25m commitment to bolster the club's on-field fortunes.
Despite some limited dealings in the transfer market, Rangers crashed out of two European competitions by the end of August, effectively losing out on up to £15m of vital revenue.
Financial woes
Earlier in August, it also emerged that sheriff officers had visited Ibrox over an unpaid tax bill.
The following month, the veil was finally lifted in court on the extent of the club's financial woes.
HMRC had £2.8m of assets ring-fenced in Rangers accounts over an unpaid bill.
The club's former lawyers Levy & McRae took an outstanding £35,000 bill to the Court of Session where its own counsel expressed concerns over Rangers' solvency.
Further embarrassment ensued when a damages action by former chief executive Martin Bain reached court.
A judge granted a warrant to ring-fence £480,000 of Rangers' assets pending the settlement of his case.
Lord Hodge granted this on the basis that there was a "real and substantial risk of insolvency" if Rangers lost its FTT against HMRC for disputed tax and penalties totalling about £49m.
Although Rangers had established a healthy lead at the top of the SPL, bad news off the field kept coming in October.
Club legend John Greig and former chairman John McClelland resigned from their posts as non-executive directors.
Days later, former director Donald McIntyre won a legal bid to have £300,000 of the club's assets frozen pending a breach of contract case. He later settled out of court.
More damaging headlines followed as the club began to surrender its lead at the top of the league.
Surprise move
By the time matters came to a head in February 2012, Rangers trailed Celtic by four points having sold their top scorer Nikica Jelavic in the January transfer window.
In a surprise move on 13 February, Whyte confirmed that the club had lodged legal papers to appoint an administrator.
HMRC responded, on Valentine's Day, by launching a legal bid to appoint its own administrator.
Whyte's legal team won the race and London-based firm Duff and Phelps were appointed to take over the day-to-day running of the club, which suffered an immediate 10-point penalty.
Rangers now lie 14 points behind Celtic in the league - effectively ending their title challenge.
Larger threats, however, may lie in wait over the horizon for the Ibrox club.
If the administrator cannot reach agreement with creditors then the liquidation of Rangers becomes a real and distinct possibility.
Since HMRC would appear to be the largest creditor, it would be in a position to block any deal.
The days ahead are now about the very survival of Rangers.
For the club's fans, these events are cataclysmic.
The season is effectively over and the club they love and cherish could be on the verge of folding.
As the club's army of fans tries to make sense of this, many will ask questions about the club's tax strategy and financial dealings over the last decade.
Uncomfortably for one Knight of the Realm, some of those questions will focus on the role of Sir David Murray in the financial collapse of Rangers Football Club.