Backing for tougher action on 'offensive' sectarianism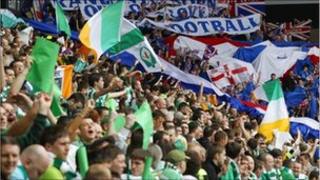 More than 90% of Scots support tougher action against sectarianism, according to a Scottish Government poll.
However, the survey carried out by TNS-BMRB, suggests 11% of people do not believe sectarianism is unacceptable in Scottish football.
The Scottish Parliament is due to look at new legislation cracking down on offensive and threatening behaviour relating to football.
If approved offenders could face jail time and football banning orders.
The poll results were gathered from a sample of 1,028 adults over the age of 16 from 70 different constituencies.
Other findings showed 85% of people supported sectarianism being a criminal offence and 89% agreed it was offensive.
Roseanna Cunningham, Minister for Community Safety and Legal Affairs, said: "Sectarianism has no place in a modern Scotland and it is clear from this latest poll that the Scottish public have had enough of it," she said.
"Sectarianism has huge consequences for individuals who are threatened, major consequences for communities, and it undermines the very fabric of a Scotland that we want to be tolerant, respectful and forward looking."
Delayed bill
The Offensive Behaviour at Football and Threatening Communications (Scotland) Bill, due to go before the Scottish Parliament, proposes jail terms of up to five years for those convicted of carrying out offensive behaviour in and around football or making threatening communications.
Football banning orders will also be assessed.
The timetable for the new bill was delayed by six months amid concerns that it was being rushed through parliament.
"Clearly it won't be solved overnight, and this proposed legislation is only the start - we will be looking at further wide ranging actions which can be brought forward across society over the five year parliamentary term," added Ms Cunningham.
"However, behaviour which is threatening, offensive and which incites hatred and public disorder simply cannot be allowed to happen.
"That is why this government is taking decisive and immediate action to clarify the law and ensure law enforcement agencies have additional tools in their armoury to crack down upon these individuals with full force."
'Learn lessons'
Moves were made to tighten up anti-sectarian legislation after an ill-tempered Scottish Cup replay match between Celtic and Rangers in March.
The Scottish Labour party said sectarianism was a deeply complex issue with no "quick fixes".
The party's justice spokeswoman, Johann Lamont MSP, said: "We must challenge the small minority who think sectarianism in 21st century Scotland is in any way acceptable by sending the clear message that offenders will face the full force of the law.
"As we seen with the verdict in the Neil Lennon case last week - there is no point in introducing new laws if they are not going to work.
"We must learn lessons from the Lennon case as otherwise there is a real danger that the verdict may undermine confidence in our justice system's ability to tackle violent and aggressive behaviour."