Monkland Canal hosts 'Mark Millar superhero sculpture'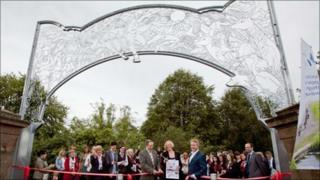 A sculptor inspired by one acclaimed Scottish artist and made by another has been unveiled at Monkland Canal in Coatbridge, North Lanarkshire.
The work by Andy Scott - who also made the M8 heavy horse - pays homage to the work of renowned comic book writer Mark Millar, who grew up in the town.
The six-metre high steel archway shows a character called Captain Coatbridge and two female superheroes.
It was commissioned as part of on-going efforts to regenerate the canal.
New gateway
The archway is made up of thousands of pieces of shaped steel which have been welded together and shows superheroes holding up the sun, moon and stars.
It was inspired by Mark Millar's work and ideas generated by art students at his childhood school, St Ambrose High, who took part in workshops led by local artist, Merlin Currie.
The archway is part of a £175,000 gateway to the 200-year-old Monkland Canal, along with new landscaping and access improvements at Blair Bridge.
The gateway also features a number of stone seats featuring comic book style expressions such as "Skud!" and "Skelp!".
Attending the unveiling of the arch, Mark Millar said: "I grew up in Coatbridge and both my parents were literally born a few streets from here.
"In fact, I used to try to catch frogs at this very spot on the canal. It is brilliant to see the Monkland Canal and the surrounding area being celebrated and becoming more accessible for the Coatbridge community."
The new gateway at Blair Bridge is part of a series of projects led by The Monkland Canal Steering Group, which was established to reopen the canal to the public.
The group comprises British Waterways Scotland, North Lanarkshire Council, The Waterways Trust Scotland, Sustrans, Central Scotland Forestry Trust, Summerlee Museum, the Forestry Commission Scotland, Calderbank Heritage Society and Calderbank Regeneration Group.