Edwin Morgan poetry prize awarded to Jane McKie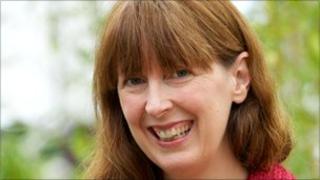 The winner of a poetry prize set up in memory of Scottish poet Edwin Morgan has been announced in Edinburgh.
Jane McKie's poem Leper Window, St Mary the Virgin was chosen from 1,200 for the inaugural £5,000 prize, which is sponsored by Strathclyde University.
It is exactly a year since Morgan, who was born in Glasgow, died at the age of 90.
The prize is one of the largest of its kind and honours the first man to be made Scotland's national poet or makar.
It was awarded at the Edinburgh International Book Festival.
Leper windows allowed people with the disease to see the altar in a church without having to enter the building.
Judge Vicki Feaver said Leper Window, St Mary the Virgin evoked a lost world in a dozen elegantly stated lines.
She said: "Each stanza leads the reader a little further on a vivid sensual and historical journey from a world where leprosy is no longer a scourge to a world where its sufferers went on pilgrimages in search of healing.
"It's a poem about touch - one of the most difficult senses to write about.
"The untouchable lepers, the God who 'did not touch', and the touch of the lepers on the ledge of the church window 'the lip of sandstone ... purled (wonderful word!) with fissures'.
"We see and feel the fissures made by the pressure of their fingers as we see and feel their rash and breath.
"The poem brings us literally in touch with their suffering."
A number of other poems were awarded runner up prizes and commendations.