Coatbridge Sunnyside assault victim dragged by train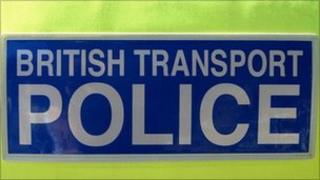 A man is being sought over an assault at a train station which saw the victim fall off the platform before being dragged a short distance by the train.
The victim was punched at Coatbridge Sunnyside station at about 23:45 on 13 August, shortly after the Edinburgh Waverley to Garscadden service arrived.
The 32-year-old man then fell between the train and the platform before being dragged along by the train.
He is being treated in hospital for back and leg injuries.
British Transport Police (BTP) said the injured man was in the company of his wife at the time of the attack.
The suspect, who is described as wearing a 'beanie' hat, is believed to have boarded the train at Edinburgh Waverley with another taller man who is described as wearing a black jacket.
Serious condition
They were last seen crossing the Coatbridge Sunnyside station car park and walking off in the direction of the town's Sunnyside Road.
The victim was taken to Monklands Hospital, where his condition is described as being serious but stable.
BTP officers are reviewing CCTV footage in an attempt to identify those involved.
Det Sgt Kevin McCormack, the officer leading the enquiry, is appealing for witnesses.
He said: "This sort of incident is rare on the rail network.
"However, I am anxious to trace people who witnessed the altercation on the station platform, and anyone who can identify the men involved should contact BTP as a matter of urgency."