Aircraft near-miss prompts Glasgow Airport shake-up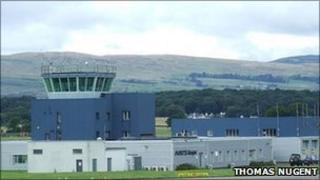 A possible near-miss between a passenger aircraft and a glider has led to changes in air traffic control procedures at Glasgow Airport.
An investigation into the incident on 23 July has prompted the Civil Aviation Authority (CAA) to reclassify airspace around the airport.
The measure aims to ensure greater coordination of leisure aircraft users.
The UK Airprox Board's probe is still underway and no further details will be available until it publishes it report.
The Glasgow Control Area will be reclassified from class E to class D as an "interim safety enhancement" from 16 September.
This "fast-track" process is reserved for use where a "clear and present threat to public safety" is identified, the CAA said.
A spokesman added: "At Glasgow we've raised the airspace round the airport by one level.
"We've restricted it so there's still the possibility for lower level users like microlights to use it but it has to be done in a much more co-ordinated way and much more controlled by air traffic control.
"It really only affects leisure users of the airspace.
"For airlines and general traffic going in and out it makes no difference."
He said National Air Traffic Services would now apply to make the interim reclassification order permanent.