Jail for serial domestic abuser Joseph Loughran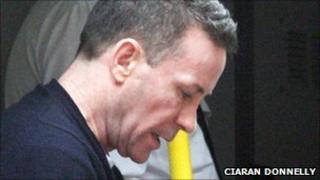 A man who admitted a string of brutal attacks on five women at addresses in Glasgow over a 29-year period has been given a 15-year extended jail sentence.
Joseph Loughran, 51, was accused of attempted murder but instead pleaded guilty to the reduced charge of assaulting them to the danger of life.
At the High Court in Edinburgh, he was told he will spend nine years in prison and be supervised on release.
The offences took place between January 1980 and December 2009.
Following Loughran's sentencing, Glasgow prosecutors said it was one of the most severe domestic abuse cases they had ever dealt with.
The High Court in Glasgow previously heard how Loughran carried out assaults on Janice Allan over a period of 12 years until 1992 at various addresses across Glasgow.
He hit her on the body with an air rifle and brandished a bow and arrow as well as an implement normally used to spear fish.
He turned to Ann Webster in February 1993. This included having a lit cigarette pressed against her body and hair and being forced to clean up food he had thrown onto the floor.
Loughran attacked Mary Matthew at a flat in the city's Scotstoun area between April 1996 and February 1997.
He then regularly battered Lynn Robertson at properties in Glasgow's Knightswood for three years from July 2004.
Loughran tried to strangle her with a piece of flex and she also had to dodge being hit with weights.
His final victim Suzanne Small was repeatedly attacked between December 2007 and 2009.
Loughran forced the terrified woman into a bath and held her head under the water.
Anne Marie Hicks, head of the Domestic Abuse Unit in the Glasgow Procurator Fiscal's Office, said: "This is one of the most severe cases of domestic abuse we have ever dealt with, and I hope it will serve as a warning to other abusers that they will be pursued and will be sent to prison.
"Joseph Loughran subjected his victims to regular, violent abuse. Each time, the abuse started shortly after the relationship began and lasted until the relationship ended, often a period of many years.
"Domestic abuse remains one of the most deplorable crimes known to our society - there is no place for it and no excuse for it."