Strathclyde University has test for fake Scotch whisky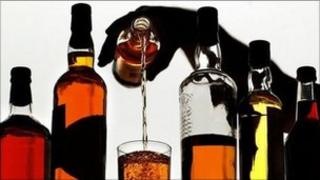 A new method for detecting bootleg Scotch whisky could help safeguard one of the country's most important industries, it has been claimed.
The technique, developed at Strathclyde University in Glasgow, examines ethanol concentration in undiluted samples and the residue of dried whisky.
Unlike other methods, it does not involve expensive lab-based analysis.
The new method compares whisky samples to determine if they are what it says on the label or an imitation brand.
The research was led by Professor David Littlejohn from the university's department of pure and applied chemistry.
Prof Littlejohn's team analysed 17 samples of blended whisky.
The levels of ethanol and colourant led them to identify correctly the eight authentic and nine counterfeit samples.
Prof Littlejohn said: "The whisky industry has tools at its disposal for telling authentic and counterfeit whisky brands apart but many of them involve lab-based analysis, which isn't always the most convenient system if a sample needs to be identified quickly.
"There's a growing need for methods that can provide simpler and faster identification and we have developed a system which could be adapted for devices to use on site, without the need to return samples to a lab.
"It could be of great benefit to an industry which is hugely important to the economy."
Financial support for the project was provided by the Scottish Funding Council, Fibre Photonics Ltd and WestCHEM, a joint research school formed by the Universities of Strathclyde and Glasgow.