Helensburgh people key to solving fire murder case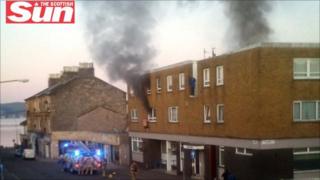 Police investigating the murders of a man and his sister in a deliberate house fire in Helensburgh have said the answer lies in the local community.
Thomas Sharkey, 21, died in the blaze at his family home in Scott Court at about 0500 BST on Sunday. His sister Bridget, eight, died later in hospital.
Their parents, Angela, 46, and Thomas, 55, both survived the fire and are in a critical but stable condition.
Strathclyde Police said they were following a number of lines of enquiry.
The officer in charge of the investigation, Detective Chief Inspector Anne McKerchar, held a news conference on Monday to appeal for help.
She said she had been "greatly encouraged by the response so far" from members of the public but believed "the answer lies within the local community".
Det Ch Insp McKerchar would not comment on reports about the background of family members but said her officers were following "a number of lines of enquiry".
Emergency services were called to the double-storey first floor house in Scott Court after being alerted by members of the public.
The body of Thomas Sharkey jnr was found within the property. His sister Bridget died a short time later at the Royal Alexandria Hospital in Paisley.
Mr and Mrs Sharkey both managed to escape from the house but were badly injured. Their condition is described as "critical but stable condition".
Police confirmed that the parents do not currently know their children are dead.
'Everyone shocked'
Det Ch Insp McKerchar said "the family were in their beds at the time" the fire broke out and "there would be very little time for them to escape".
A mobile police incident room has been set up in Helensburgh, in Argyll and Bute.
Post-mortem examinations will be carried out and a report has been forwarded to the procurator fiscal.
Det Ch Insp McKerchar appealed for anyone with information that may help the inquiry to come forward.
She particularly wants to hear from anyone who was in the James Street, West Princes Street or West Clyde Street areas of Helensburgh at about 0500 BST on Sunday, and who may have seen anything suspicious.
Parish priest Father Peter Lennon, of St Joseph's Church in Helensburgh, said the tragedy was "dreadful".
"The wee girl was an absolute gem, the boy I didn't know as well because he was in America on this scholarship," he said.
"She made her first Communion in May. She was like the other girls, when they were out playing she always had good fun.
"I didn't know the parents very well, but they came to church and were a good family. I have spoken to their relatives. They are just shocked."
Father Lennon said he had told his congregation on Sunday morning about the deaths.
He said: "There was a deadly silence when I announced it.
"Most of them knew there had been a fire and most of them knew who had been involved, but to hear of the deaths was devastating. There was just silence."
Thomas Sharkey won a golf scholarship to Georgia Southern University in the United States, after leaving Our Lady and Saint Patrick's High in Dumbarton in 2008.
In his biography on the Georgia Southern Eagles website, he described himself as "ambitious and competitive", adding that his grandfather and father were the biggest influence on his athletics career for teaching him golf.
He also said he would have liked to have witnessed Celtic winning the European Cup in 1967.
Helensburgh Central councillor Al Reay described the fatal fire as "a serious tragedy".
"Everybody is very shocked, particularly given the fact a young girl has been killed, and a young boy," he said.
"This sort of thing doesn't normally happen in Helensburgh."
Mr Reay added: "I understand that the father raised the alarm himself and was hanging out of the window shouting for help.
"The fire brigade turned up very quickly and evacuated everybody from the adjacent flats."
One neighbour, who did not wish to be named, said: "They had lived there a few years and were a nice, normal family.
"It is terrible. It makes any problems the rest of us might have seem insignificant."