Hugh Dallas settles 'Pope email' case against SFA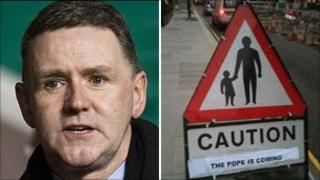 A referees chief who was sacked for sending a joke email about the Pope and child abuse has settled with the Scottish Football Association (SFA).
Hugh Dallas was planning to sue the SFA for unfair dismissal at an employment tribunal in Glasgow this week.
The hearing was expected to last five days but officials confirmed that both parties had reached agreement.
Mr Dallas, 53, and four other SFA staff were sacked over the email. Three have since been given their jobs back.
Mr Dallas' lawyer Caroline Carr released a statement following the settlement.
Issue resolved
It stated: "Hugh Dallas can confirm that the issue has now been resolved to both parties' satisfaction using Acas conciliation.
"Hugh Dallas will continue to support, encourage and promote association football in Scotland and the Scottish referee movement. He has no further comment to make."
A spokesman from the SFA added: "It's been resolved to each parties' satisfaction and we have no further comment to make."
The email at the centre of the case contained a joke about the Pope and child abuse.
It showed a road sign of an adult holding a child's hand. It was captioned - "Caution: The Pope is coming" in reference to the Papal visit to Scotland in September.
Church call
The Catholic Church called for Mr Dallas to be sacked if he sent the email.
The five members of staff who were eventually sacked - including head of referee development Mr Dallas - were alleged to have forwarded the email from their SFA accounts in breach of the organisation's IT policy.
Mr Dallas first challenged his sacking in November last year and his appeal was heard the following month by then SFA president George Peat and human resources expert, Viv Coady.
Both parties agreed with chief executive Stewart Regan's decision to sack him.
Mr Dallas was given an MBE for services to football a few months after being picked to be the fourth official at the 2002 World Cup final.