My heart's in the High Street a'chasing the deer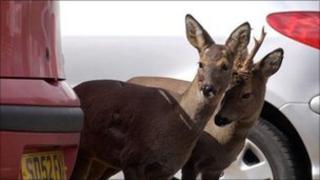 The Scottish government's wildlife body Scottish Natural Heritage says growing numbers of deer in towns present opportunities, and some problems to solve.
It's tempting to come over all David Attenborough, and whisper, when you're on the trail of some roe deer.
But, to be honest, there is no need.
Jamie Hammond, Scottish Natural Heritage (SNH) deer management officer, had taken me to a small woodland very close to the Glasgow Fort shopping centre in Easterhouse.
As we went searching for signs of the deer that live in the area, we were overlooked by dozens of houses.
There was the constant roar of traffic in the background from the nearby motorway and at one point we were even interrupted by a man riding his trail bike past us.
All signs, Jamie pointed out, that this is a truly urban area.
But, he said the deer are now "adapting to live in this environment".
In part, that's because they have no natural predators and the habitat is ideal.
Jamie explained: "So the survival rates are pretty high.
"And they have an ability to produce twins most years, if they're in good condition.
"That means it doesn't take long for quite a large population of deer to move into these areas."
Jamie told me that that presents a number of opportunities.
"First and foremost you don't need to go to the north of Scotland now, to see a deer.
"In terms of environment education, and bio-diversity, and really seeing something big on your doorstep, that's key.
"Children can see nature right there in front of them."
But there are also some problems to be resolved.
"We know deer and vehicle collisions are increasing across Scotland, but in particular in parts of the central belt.
"There are more problems with wildlife crime related to deer, whether it's poaching with dogs or illegal shooting.
"And if you're a budding gardener and deer are eating your roses, or if someone's trying to establish a woodland, you may not like deer."
That's why a Scotland-wide code of practice is currently being written, so landowners and anyone else involved can be clear about their rights and responsibilities.
Responses to the draft document are being considered, and a revised version of the document is expected to be submitted to Scottish ministers in the autumn, for parliamentary approval.
The people whose houses overlook the woodland Jamie had taken me to say they love seeing the deer.
Lisa told me: "I grew up in this area, and to be able to look out the back every morning and see a big green field, and then see the deer coming out of the mist, is picturesque."
Margaret, who is 80 and has lived in the houses since they were built in the late 1950s, said: "I think it's great to see them. They're lovely."
And one lady I met said it was mostly nice to look out of her window and see the deer trotting down the road past all the parked cars.
But, she said: "If you wake up on a Sunday morning with a hangover, then you think you must be seeing things."