Open casting for Brad Pitt zombie movie in Glasgow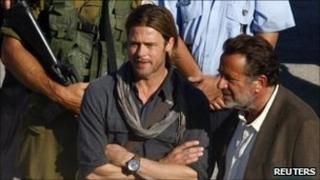 A Hollywood movie starring Brad Pitt and being filmed in Glasgow is looking to recruit 2,000 local extras.
Parts of post-apocalyptic zombie movie World War Z are due to be shot in the city next month.
An open casting is being held at Glasgow Caledonian University this weekend.
There has been some criticism of the casting agents looking, in particular, for people from Irish, Italian, African and Asian backgrounds.
The Casting Collective has been advertising for men, woman and children of all ages and from all backgrounds who are available to work for between one and 10 days in August.
The company said it was particularly interested in those with Irish and Italian backgrounds, as well as people of Black African, Black Afro Caribbean, Hispanic and Chinese ethnicity.
Although shot in Glasgow, the film is set in Philadelphia so the producers are reported to want to represent the ethnic mix of the American city.
The film makers are also keen to recruit those with military or fire, police and ambulance service experience.
Some filming for the Paramount Pictures movie, which is based on the Max Brooks novel, World War Z: An Oral History of the Zombie War, has already taken place in Valletta in Malta ahead of the production moving to Scotland.
Glasgow City Council said that the film shoot will be the biggest-ever in the city.
The location manager for World War Z said Glasgow had been chosen because of its architecture, wide roads and grid layout.