Emma Blair romance book writer Iain Blair dies ages 69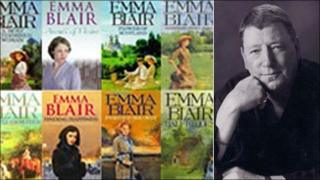 Glaswegian Iain Blair - who wrote 29 best selling romance books under the pen name Emma Blair - has died.
The 69-year-old passed away at his home in Torquay, Devon, earlier this week after a four-year battle with diabetes.
The 6ft 3in Scotsman successfully wrote books as Emma Blair for 11 years before outing himself at an awards ceremony.
As well as a 30-year writing career, he also spent time as a Shakespearean actor, a Scottish newspaper journalist and a lifeguard in Sydney, Australia.
Blair's books included Half Hidden, Wild Strawberries, Scarlet Ribbons, An Apple from Eden and Where No Man Cries.
Enjoyed pint
He was one of Britain's most popular writers and most borrowed authors from libraries.
His wife, TV producer and fellow novelist, Jane Blanchard, said: "Emma was not the quiet, retiring type but 6ft 3in Glaswegian Iain Blair who enjoyed a pint and a smoke.
"For years no one knew who Emma was until publicity surrounding an award made him decide to 'come out'."
Ms Blanchard said in virtually every interview afterwards, Blair was asked whether he wrote his books while wearing women's clothes - "the answer, a very resounding and Glaswegian 'no'," she said.
The author was forced to stop writing four years ago after he was diagnosed with diabetes.
He died at his home with Jane and one of his sons, Angus, at his side.
Ms Blanchard added: "Iain was the bravest man I have ever known. We had nearly 17 wonderful years together but they just went too quickly.
"People ask me if he was romantic - he most definitely was."
Blair was born in 1942 and brought up in Glasgow but his father died when he was just six weeks old and his mother died when he was aged 11.
Shakespearean actor
He was a professional actor for 20 years appearing with the Royal Shakespeare Company and in TV series including The Sweeney, Rock Follies, The Saint and Citizen Smith.
His writing career took off after he switched from unsuccessful thrillers to romance.
Recalling that time, Blair said: "I was given absolutely no choice in the matter.
"They (the publishers) decided on a sex change and even the name. So that was that.
"Emma I became and Emma I stayed."
He said people asked him what kind of person Emma was and he replied: "Probably about late 40s, a bit of a tough cookie and had a certain amount of personal tragedy which is why she writes with such passion."
Blair had two sons from his first marriage, and a stepson, and four grandchildren. His funeral will be a private service later this week.