Greenock's Tall Ships Races 2011 welcomes first vessel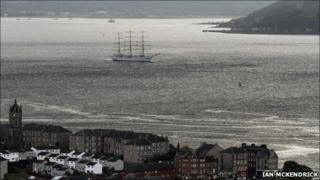 Greenock has welcomed the first vessel in this year's Tall Ship Race.
The Russian three-masted ship MIR arrived at Cardwell Bay near Gourock on Tuesday evening and berthed at Greenock on Wednesday.
Greenock is hosting the second stage of the race, following Waterford, Ireland. About 60 ships are due to arrive at James Watt Dock for the event.
About 800,000 visitors are expected to attend a festival over the weekend to celebrate the race.
The quayside will be taken over by music stages, street theatre and circus workshops from 9 to 12 July.
Glaswegian singer Lulu has been announced as one of the headline acts alongside Scottish band Deacon Blue.
There will also be a fireworks display on 11 July.
MIR was built at the Gdansk shipyard in Poland in 1987 and is crewed by up to 199 sailors.
Are you going to see the Tall Ships? You can send your pictures to us at newsonlinescotland@bbc.co.uk and we'll try to use as many as we can.
If you submit an image, you do so in accordance with the BBC's Terms and Conditions.