Bill Gates backs Glasgow University malaria project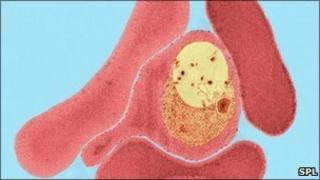 Scientists at Glasgow University are being funded by Microsoft billionaire Bill Gates' charity to develop a hand-held device to diagnose malaria.
The $100,000 (£62,200) will fund a study into the use of Surface Acoustic Waves (SAWS) to detect red blood cells infected by malaria parasites.
Detection is thought to be possible as cells respond to SAWS in different ways depending on the cell properties.
SAWS electronic components are commonly found in TVs and mobile phones.
The Glasgow team proposes to use SAWS to exert selective forces on malaria-infected red blood cells to separate them from uninfected red cells.
Different cells respond to SAWs in different ways depending on physical properties such as elasticity and shape.
Diagnosis 'difficult'
Since malaria parasites cause red cells to alter their elasticity and shape, they are expected to respond differently to SAWs at particular frequencies.
Researchers hope to produce a hand-held device which can identify infected cells quickly and cleanly and separate them from healthy cells.
Team member Jon Cooper, professor of bioelectronics and bioengineering, has been using acoustic devices to develop new technologies for medical diagnostics for a number of years.
"Diagnosing malaria can be a difficult and often time-consuming procedure because so few blood cells actually carry the parasite," he said.
"Sometimes, it can take a couple of hours to secure a positive or negative result on a blood sample.
"Moreover, developing a reliable, portable diagnostic tool is not only important for the individual concerned, but it is also important in preventing the spread of drug resistance in the parasites."
Other members of the project team being funded by the Bill and Melinda Gates Foundation are senior lecturer Dr Lisa Ranford-Cartwright and Mike Barrett, professor of biochemical parasitology.
Dr Ranford-Cartwright said: "In the developing world, where human expertise and medical resources are in short supply, patients presenting with physical symptoms are assumed to have malaria without being given a blood test. They then receive drugs inappropriately.
"As drug levels fall to sub-curative levels they may then get infected, which creates perfect conditions to select for drug resistance."
Malaria is spread from person to person through mosquito bites.
The disease kills more than one million people annually and is most prevalent in sub-Saharan Africa and parts of south-east Asia.
Symptoms are similar to flu, but can progress to severe forms, including cerebral malaria, seizures, anaemia and death.
Prompt diagnosis and treatment of the disease before severe malaria develops is key to reducing fatalities.