Arrests at Orange Order parade in Glasgow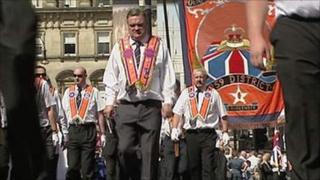 Police arrested 32 people - six for sectarian offences - during an Orange parade through Glasgow.
Police and the Orange Order had warned people to leave the "booze and bigotry" behind, ahead of the annual march.
A police spokesman said about 8,000 people from 182 lodges took part in the parade.
The Order deployed specially trained stewards to free up police officers to tackle any disorder, street drinking or sectarian behaviour.
Strathclyde Police said the offences were committed by followers of the parade. Officers also issued a "large number" of fixed penalty notices for drinking and urinating in a public place.
Assistant Chief Constable Campbell Corrigan said: "Today was a successful event whereby the Orange Order worked in partnership with police and stewards to ensure the celebrations went ahead with minimum disruption to the city.
"Unfortunately the day was blighted with some individuals who still thought drink and disorder were the order of the day.
"Many of these people were issued with fixed penalty notices, however there have also been 32 arrests - six of these for sectarian offences.
"All those identified as committing offences were among the followers, and not part of the parade itself."
The Order agreed to an earlier finish, at 1330 BST, to its traditional Glasgow Green rally at the end of the event.
This meant the entire march could be covered by one police shift.
'Zero tolerance'
Earlier, Ch Supt Bernard Higgins, who is in charge of policing the parade, said his officers would take a "zero tolerance approach" to any disorder or sectarianism from those who followed the march.
He said: "Our priority is to make sure the parade is peacefully facilitated with the safety of those taking part, the general public and my officers being paramount.
"We will not tolerate sectarian behaviour of any kind."
Strathclyde Police worked closely with the Grand Orange Lodge and Glasgow City Council to agree a route for the march.
Mr Henry Dunbar, Grand Master of the Orange Order, had said: "I call upon every member of the Order to enjoy the day with the utmost decorum.
"I also have a message to our more boisterous supporters: you are welcome, but please enjoy the music, colour and excitement of the march responsibly - and leave the booze at home."