Scotland's first parkour course opens in Coatbridge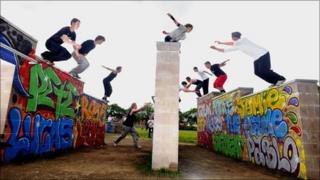 Scotland's first purpose-built parkour, or "free running", course has opened in North Lanarkshire.
Parkour sees participants climb vertical walls, swing from handrails and jump over buildings.
It has grown in popularity since featuring in films such Casino Royale.
North Lanarkshire Council decided to build a facility at West End Park in Coatbridge after local youngsters started practising it on roof tops in the town centre.
The ground-level course encourages young people to participate in the sport in a safe environment and is thought to be the first of its kind in Scotland.
The parkour facility cost £35,000 to build and came about after council officials and police came to an agreement with local teenagers.
Local regeneration manager Michele Battersby said: "Along with the police, council staff met around 25 young people and agreed that if they stayed off the roof space we would work with them to provide a facility for them to enjoy their free running skills."
An initial grant of £4,000 was secured from the Local Action Fund to assist the development of Coatbridge Parkour Group and pay for coaching and letting costs for indoor sport halls.
Now the new facility attracts up to 50 youngsters on a Friday night keen to practice their 'free running' skills.
Jordan Higgins, 16, is among them. He said: "You get a great feeling of achievement when you do something you never thought you and your body could achieve."
Councillor Jim Brooks, convener of the Coatbridge Local Area Partnership, said: "This is Scotland's first purpose built parkour facility, which demonstrates a highly innovative approach to play.
"It is a long-term sustainable project which promotes health and fitness and we hope the young people can take forward some of the social enterprise opportunities the project has uncovered.
"It is an excellent example of partnership working at its best."