Scots WWI soldier Cowie dubbed real 'Private Ryan'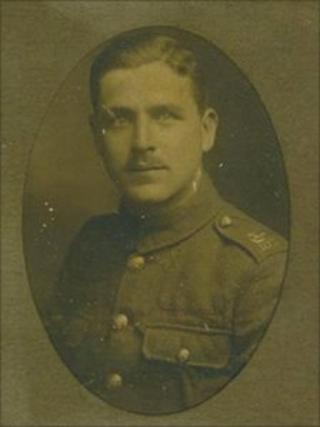 The daughter of a Scottish soldier spared from fighting in World War I has travelled to Scotland to learn more about her family's history.
Frank Hamilton Cowie has been dubbed Scotland's "real life Private Ryan".
He was recalled from service in France after his mother pleaded with the authorities because three of her sons had already died on the front line.
Judy Barrett travelled from South Africa to see documents about her father still held in Scotland.
Archivists at National Records of Scotland highlighted Mr Cowie's case last year.
It was one of the most extraordinary of the thousands decided by the Lothian and Peebles Military Appeal Tribunal.
The records document the case of men who appealed against their compulsory call-up for military service following the introduction of conscription in 1916.
The reasons ranged from conscientious objection, ill health, personal or family hardship, to claims for exemption because their work was important to the national interest.
Terrible price
Elsie Cowan, from Glasgow, pleaded for her son Frank to serve at home because four of her sons had already gone to war and three had been killed in 1915. The fourth was wounded.
The tribunal granted Mr Cowie exemption for the rest of the war on the grounds of hardship.
He later moved to South Africa, where he died in 1975.
Mr Cowie's family said he had spoken about the terrible price his family paid in World War I, and how he had been recalled from service in France.
His youngest daughter Judy said: "After the film Saving Private Ryan came out we, as a family, remarked on the similarity in the story.
"We felt very privileged and had a strong sense that we might not be here if it were not for that decision.
"I really feel that my father's story needs to be told, and I wish my two sisters and my daughter could have been here with me. Coming to Scotland has been an emotional journey."
Speaking from South Africa, Wendy Jackson, Mr Cowie's second daughter, said: "My father was, like many Scots, not inclined to easily reveal emotion, but he obviously felt very deeply about his brothers' end.
"What this did to his mother, whom I never met, was always of concern to him."