Rare vagrant parti-coloured bat found on Arran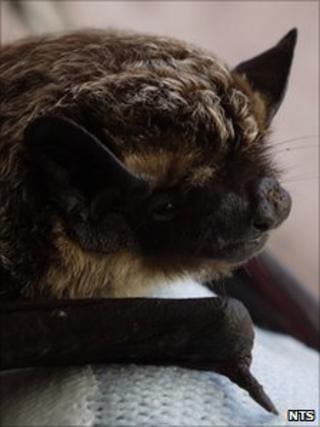 A bat found by a nine-year-old girl on the Isle of Arran has been identified as a rare species not native to Britain.
The usual habitat of the parti-coloured bat is continental Europe and Asia.
It was found injured by Victoria Mowatt, who is a member of the National Trust for Scotland (NTS) Young Naturalists' Club.
She contacted the NTS ranger at Brodick Country Park, Corinna Goeckeritz, who advised her on caring for it.
The bat survived and is now being looked after by a specialist bat carer in Dundee, Tracey Joliffe.
But identifying the species of bat proved to be tricky.
Ranger Corinna Goeckeritz said: "I was a bit embarrassed when I was not able to tell them, as this was a species of bat I had not come across before.
"In the end the bat turned out to be not a rare Scottish species as first suspected, but a species not native to the British Isles."
Attacked by cat
Parti-coloured bats are relatively large bats. Their name is derived from their distinctly bi-coloured dorsal fur, which is brown at the base but has silvery tips.
Vagrant parti-coloured bats have been recorded sporadically in Britain, usually individuals blown off course during migration.
This individual may have been attacked by a cat after arriving on Arran.
Victoria Mowatt found the bat alive, but clearly in trouble. She carefully placed it in a shoe box.
She said: "I know that bats like dark places so I emptied out my friendship box for her.
"Then we fed her water from the end of a small paintbrush."
The species was eventually confirmed by DNA analysis carried out at the Waterford Institute of Technology in Ireland.
The bat will now remain in Scotland. An irreparably damaged wing means that it will have to be looked after for the rest of its life.