Scots poet Edwin Morgan's SNP bequest 'inspiring'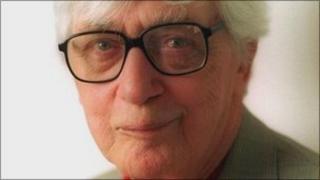 The SNP has described the late national poet's support for independence as "humbling and inspiring" amid reports he left £1m to the nationalist party.
Edwin Morgan, who died last year aged 90, is thought to have left the SNP a significant part of his estate.
He became the Scotland's first national poet - or Scots Makar - in 2004 by then First Minister Jack McConnell.
A spokesman for the SNP said it was waiting to hear from the executors of Morgan's will about his wishes.
He said: "Edwin Morgan was a magnificent national poet whose work as makar leaves an incredible artistic and literary legacy for Scotland.
"His support for the cause of Scottish independence was both humbling and inspiring.
"We expect to hear in due course from the executors of Edwin Morgan's will exactly what his wishes for his estate were."
Morgan, who was recognised as one of the great poets of the 20th Century, died at his care home in Glasgow on 19 August 2010.
He was educated at Rutherglen Academy followed by Glasgow High School, and began his studies at the University of Glasgow in 1937. He was Professor of English at the university from 1975 until he retired in 1980.
Morgan was appointed the inaugural Poet Laureate for Glasgow in 1999 and Scotland's first national poet by the Scottish Parliament in 2004.
He wrote more than 60 poetry books, was awarded an OBE in 1982 and was winner of the Queen's Gold Medal for Poetry in 2000.