Inverclyde UK Parliament by-election campaign steps up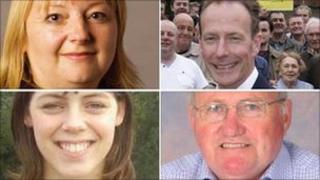 The main political parties have stepped up campaigning in the Inverclyde by-election, ahead of voters going to the polls to elect an MP on 30 June.
The SNP and Tory leaders, Alex Salmond and Annabel Goldie, were in the constituency with a pledge to support local jobs.
Labour claimed SNP candidate Anne McLaughlin had backed Inverclyde regeneration cuts while an MSP.
And the Lib Dems revealed their candidate would be Sophie Bridger, 20.
The by-election is being held following the death of Labour MP David Cairns, who had a 14,416-vote majority, following his death from pancreatitis at the age of 44.
Mr Salmond said his party had a "great record" on jobs as the Scottish government.
"This by-election is about who is best placed to protect local households and deliver jobs to Inverclyde," said the first minister.
"Labour are out of power and out of touch. Inverclyde has a proud history and it must have a strong future. I know Anne will work tirelessly in Westminster, with the Scottish government and most importantly in Inverclyde for that better future."
Campaigning with Miss Goldie, Tory candidate David Wilson, the depute provost of Inverclyde, said: "Britain is going through tough times - but we are emerging because we have a UK government prepared to take the right decisions to take our country forward.
"I want to play my part to deliver a bright and prosperous future for Inverclyde, for Scotland and for Britain."
Labour, whose candidate Iain McKenzie leads Inverclyde Council, branded Ms McLaughlin "hypocritical" after claiming she voted to cut the Riverside Inverclyde regeneration budget by 60% while a Glasgow MSP in the last parliament.
Greenock and Inverclyde Labour MSP Duncan McNeil, who holds his seat with a 511-vote majority, said: "It is staggering that the SNP decided to hit Inverclyde with the biggest cut in regeneration funding in the whole of Scotland while being happy to increase regeneration budgets in other areas.
"Anne McLaughlin has little credibility as a representative for Inverclyde because now we know she voted for a policy that will hit our area hard."
Meanwhile, the Lib Dems chose the head of Scottish Liberal Youth to fight the Inverclyde by-election.
Sophie Bridger, described as a "rising star" in the party, pledged to bring a fresh voice to the area.
Scottish Lib Dem leader Willie Rennie said: "Sophie has a brilliant track record, having given her time over to volunteering and working in a care home. It is time for a real change in Inverclyde and Sophie and the Scottish Liberal Democrats will make that change.
"Liberal Democrats have real solutions and voters here can put their faith in the younger generation to fight for Inverclyde."