Eight Scottish councils work on plans to share services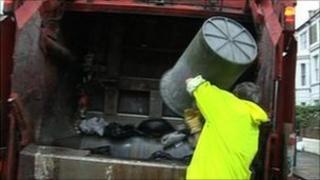 Eight councils in the west of Scotland have agreed to look at detailed proposals to share services.
It has been claimed that the plan could save them millions of pounds over the next five years.
The councils came together to form the Clyde Valley Councils partnership, covering a third of the country's population.
The plan for shared services includes waste management, social care and social transport.
The proposals presented to council leaders resulted from a report by former university principal Sir John Arbuthnott.
He concluded that there were opportunities, particularly in road maintenance, for co-operation.
Since Sir John's report was completed in 2009, the local authorities have been exploring whether there could be more extensive sharing of services.
The partnership is made up of West Dunbartonshire, East Dunbartonshire, Inverclyde, East Renfrewshire, Renfrewshire, Glasgow, North Lanarkshire and South Lanarkshire.
Combined resources
Between them, the councils control an annual budget of more than £6.5bn and employ 76,000 people.
Councillor Ronnie McColl, the chairman of the Clyde Valley Community Planning Partnership, said: "These changes aren't simply motivated by cost.
"We genuinely believe that by working collaboratively and maximising our combined resources we could actually deliver a better service to the local community."
The councils have agreed to look at social transport, waste management, health and social care, and support services - including finance, IT and customer services.
Individual councils are to be asked to approve options within the plan over the summer.
Council leaders and chief executives from the eight councils have agreed to meet again in the autumn.