Daily Record and Sunday Mail to cut 90 jobs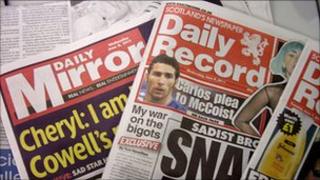 Two of Scotland's biggest selling newspapers are to cut almost half of editorial staff.
Management at the Daily Record, and sister title the Sunday Mail, have told staff they will be shedding 90 journalist jobs.
Non-Scottish content at the Glasgow-based titles will be shared with other Mirror group titles.
The Trinity Mirror group said some magazine and features pages will also be handled by the Press Association.
Bruce Waddell, editor in chief, said: "In common with all newspapers, the Daily Record and Sunday Mail are not immune from the current difficult economic conditions and our industry is experiencing unprecedented structural change.
"We have to constantly review and adapt the way we work to harness the opportunities available to us.
"Ultimately, our plan will retain what the Daily Record and Sunday Mail does best - the generation and production of brilliant Scottish news and sports - while safeguarding their future success for generations to come."
The restructuring will see a new editorial structure concentrating on Scottish stories and features.
Non-Scottish features and news would be shared with sister titles the Mirror, Sunday Mirror and The People, while some design and subbing would be outsourced to the Press Association.
Trinity Mirror said the changes would result in about 90 editorial job losses and the company has now entered into a period of consultation with staff.
The generation and production of Scottish news and sport pages will remain at Central Quay in Glasgow.
The National Union of Journalists said the proposed job losses were based on a "flawed" business plan.
National organiser Paul Holloran told BBC Radio Scotland: "It would be fair to say people are in a state of shock in the building and it does have major implications for the future of indigenous Scottish newspapers.
"It looks at this early stage that they're trying to turn it into a regional edition of the Daily Mirror, which I think is a flawed idea.
"Instead of grasping what is happening in Scotland in respect to cultural and political identity, we seem to be moving in the opposite direction."
Union officials are to hold talks with Daily Record management representatives on Thursday.