Inverclyde Westminster by-election date set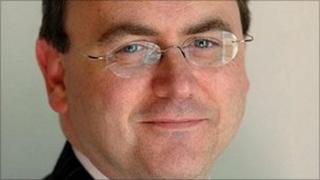 The Inverclyde Westminster by-election will take place on 30 June, with the main parties making jobs and the economy their top priority.
It follows the death last month of sitting Labour MP David Cairns, from pancreatitis, at the age of 44.
Labour has a majority of 14,416 in Inverclyde, but holds the Scottish Parliament seat of Greenock and Inverclyde by 511 votes.
The party moved the writ in the Commons allowing the by-election to take place.
Labour has selected Inverclyde Council leader Iain McKenzie to defend the seat, while former Glasgow MSP Anne McLaughlin will contest it for the SNP.
The moving of the writ came on the day that the Conservatives confirmed their by-election candidate, Inverclyde deputy provost David Wilson.
Mr McKenzie, who pledged to bring new, "high-quality" jobs to Inverclyde, immediately challenged Prime Minister David Cameron and deputy Nick Clegg to visit the area.
He said: "The government is threatening the economic recovery, threatening jobs, and hurting families who are working hard.
"So my message to David Cameron and Nick Clegg is simple: come to Inverclyde, look my neighbours in the eye, and tell them why you are cutting faster and deeper than is safe.
"Come and tell people why you think it is ok to close the local Clyde coastguard centre. Tell them why you think it is ok to cut tax credits, child benefits and the winter fuel allowance."
Ms McLaughlin also said her "priority" was to campaign for jobs and investment for Inverclyde.
"The SNP is working to make life better for households in Inverclyde with a council tax freeze, protection for local health services and more police on the beat, she said.
"With a Labour candidate who is in coalition with the Tories it is only by sending an SNP representative to Westminster that Inverclyde can build on the progress of the last four years and win a more powerful voice for people across the constituency."
Mr Wilson, said: "I am delighted and privileged to be selected as the Scottish Conservative candidate for Inverclyde."
"As a councillor for Kilmacolm and Port Glasgow, I have been a strong voice for my constituents, and I will continue to stand up for local people if they give me the honour of representing them at Westminster."
The Liberal Democrats are likely to name their choice next week.
Labour previously said a 30 June date was "unlikely".
The party said last week it was keen to avoid having a by-election during the school holidays and indicated its preference for a "long lead-in time", to set the date back for about two months.