Cable thefts rise as rail crime in Scotland drops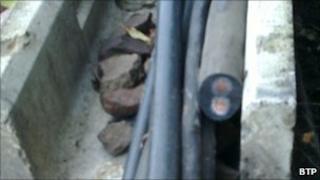 Cable thefts on Scotland's railways have more than trebled in the past year.
But British Transport Police said that overall the number of crimes committed had fallen for the seventh consecutive year.
New figures show a 5.1% reduction in crime between April 2010 and March 2011.
The rising cost of copper and metal is thought to have fuelled the 186 cable thefts recorded in the past 12 months.
A total of 4,879 crimes were committed on railways across Scotland last year.
They included trespassing, stone-throwing, obstruction and line-side vandalism.
Violent crimes - including assaults on rail staff - fell from 415 to 328. There were also fewer robberies and sexual offences.
Real challenge
More passengers had belongings stolen, with the number of recorded thefts of property rising from 335 to 350.
Ch Supt Ellie Bird, area commander for Scotland, said: "A record seventh year of reducing crime is a remarkable achievement and is indeed testament to the hard work of our officers and partners.
"While I welcome the continued reduction in crime, cable theft continues to cause significant disruption and remains a real challenge for us, the rail industry and other utilities and businesses.
"These thieves put themselves in grave danger, although the actual returns are pretty modest."
She added: "We are working closely with our rail industry partners and other organisations, such as BT and Sepa, as well as increasing the resources devoted to this resource to find more effective ways of reversing this trend."