Scots musician Phil Campbell joins tornado town rebuild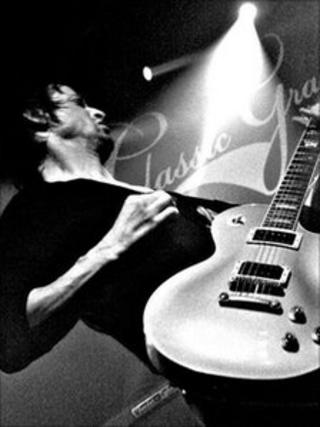 A Scots musician called Phil Campbell has decided to travel to America after hearing about efforts to help a tornado-hit town with the same name.
Phil Campbell in Alabama was struck by the devastating tornadoes which ripped through several US states in April.
Dozens of Phil Campbells from around the world are due to descend on the town to help with the rebuild effort.
Singer Phil Campbell, from Glasgow, whose own home in London was hit by a tornado in 2006, will now join them.
He decided to head to Alabama after reading a BBC Scotland news website story about other Phils, Phillipas, Philomenas and Felipes travelling to America to assist residents in the town with repair work.
They had all been converging for an event to mark the town's 100th anniversary but decided to turn the party into a salvage operation after the tornado left 25 people dead, destroyed buildings and left hundreds homeless.
The 36-year-old musician said: "It was all just too weird and too much of a coincidence.
"I had heard about the town before, and had heard about Phil Campbells meeting up there but I had always just ignored it really.
"But when I heard about the tornado I felt I really had to go out there."
The singer-songwriter, who has appeared on Jools Holland and toured with David Gray, lived in London for 13 years.
His home was among those hit when a freak tornado ripped through several streets in the north of the city in 2006.
He said: "Although nothing like the scale of the US tornadoes, it was absolutely horrendous.
"Our street was one of the worst hit. Our home was a total mess."
Railroad worker
The musician went on to pen an album called Tornado Blues.
He added: "I first heard about the town of Phil Campbell back in 1997 when my producer on my first record printed off a picture of it and showed it to me.
"It just seems the right time to go and a really good thing to do.
"I want to pick up a shovel and help out and then maybe go back a year on and see how things have changed."
Phil Campbell in Alabama was named after an English railroad worker who founded it in 1910.
Phil will join others with the same name in Alabama for the convention from 17-19 June.
As well as helping with the building effort, he will also perform a few of his songs at the hoedown and hog roast planned for all those attending.