Ombudsman upholds complaints over stillborn baby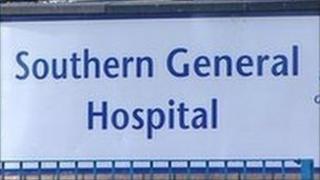 Scotland's public services ombudsman has upheld complaints against the country's largest health board after a woman lost her baby in late pregnancy.
The woman phoned the Southern General hospital in Glasgow several times in January 2009 to complain of discomfort and was told to take pain killers.
When she was admitted days later, the woman and her partner were advised their baby daughter had died.
NHS Greater Glasgow and Clyde admitted it "fell short" in treatment standards.
In its ruling, the ombudsman found: "Mr and Ms C raised a number of concerns about the midwifery care and treatment provided to Ms C before she was admitted.
Treatment failure
"After taking the views of my midwifery adviser I upheld Mr and Ms C's complaints that the telephone assessment procedure for women calling in these circumstances was inadequate, and that there was a failure to identify the changing presentation of Ms C."
The ombudsman noted that since the case, the health board had introduced a "new telephone triage system, which separates the responsibilities of midwives caring for patients on the ward from those taking calls and giving advice to women in labour calling or visiting from outside".
However, the ombudsman added: "I recommended that the board audit midwifery staffing levels and the new triage system, and remind staff to fully document all telephone contacts to ensure continuity of care.
"I also recommended that they provide a full apology for the failures identified."
In a statement, NHS Greater Glasgow and Clyde said: "This is a tragic case and our deepest sympathies are with the family.
"Clearly in this instance we fell short of the high standards we strive to provide to our patients."
The health board said there had been "a considerable review of our procedures" following the case.
It added: "A range of improvements have already been introduced including a dedicated triage team of midwives who take responsibility for telephone calls coming into the ward and new data sheets which demonstrate more clearly the advice given and frequency of telephone calls made.
"We have now received the Ombudsman's full report and will act upon and implement any further recommendations made.
"We have already apologised to the patient and we will take the opportunity to apologise again as part of responding to the recommendations made."