Fire crews tackle factory blaze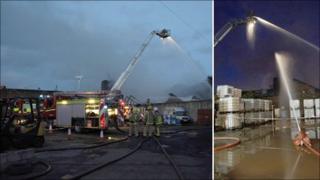 Firefighters have been tackling a large blaze at a disused factory in the east end of Glasgow.
Strathclyde Fire and Rescue were called at about 1930 BST on Thursday to reports that rubbish was burning against a building on Newhall Street.
They arrived to find an "extremely well-developed fire was raging" at the single-storey building.
At the height of the fire, flames shot 50ft into the air and thick palls of smoke could be seen for some distance.
The fire was brought under control after a number of hours but fire crews remained at the site overnight.
The cause of the fire is not known.