Lawyers dispute council's 'toxic homes' report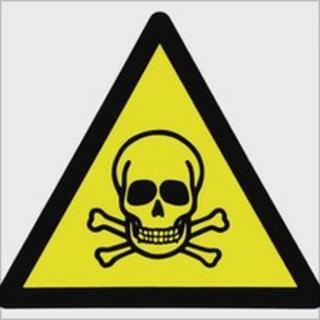 A study has found there is "no evidence to date to suggest significant health risks" on an estate where residents fear homes where built on toxic land.
The study by North Lanarkshire Council recommended further investigations be conducted on Motherwell's Watling Street estate as a "precaution".
Some residents believe their illnesses have been caused by land contaminated during the area's industrial past.
Their lawyers dispute the council's findings and say residents are at risk.
Last year, the council said it had found traces of trichloroethylene, or TCE, - a potentially harmful chemical - in open ground close to homes in Forum Place, Romulus Court, Empire Way and Tiber Avenue.
In a letter to residents, the authority said the levels found presented "no immediate risk" to householders.
'Chlorinated compounds'
Collins Solicitors, which is acting for some residents, later conducted its own probe and claimed to have found the presence of potentially harmful chemicals which "far exceed stipulated safe levels".
It said analysis of air samples, taken from 20 properties in and around Forum Place - which were built in the 1990s - revealed a significant number of chlorinated compounds and petroleum products (in particular Toluene) in the indoor air in the properties.
The firm said there were indications "that a significant number of local residents have symptoms consistent with the effects" of the compounds it had identified.
Further tests conducted by the council have now concluded that "no evidence has been found to date suggesting significant risks to health".
The report says "most garden spaces require no further investigation at this stage" but further "precautionary tests" should be carried out in eight of 64 gardens on the estate.
North Lanarkshire Council's report says "three areas of open ground also require further investigation" and "TCE has been found in one location on open ground only, and at depth".
It states that "the amount of toluene in the ground, as shown by soil probes, falls significantly below established screening criteria".
The authority has now informed residents of the results and advised them that there is no "evidence to date of a significant risk" to health.
Des Collins, from Collins Solicitors, disputed the council's conclusions based on its latest tests.
"These are anxious times for the residents in and around Tiber Avenue and Forum Place," he said.
'Wholly inconsistent'
"Not only have they had to wait an additional five months to hear the council's findings, they then find that these are wholly inconsistent with the initial indications provided by our own independent internal air testing programme.
"There should not be any chlorinated solvents, including TCE, in the air samples taken inside residential properties."
Mr Collins said the council had provided no reason "for its failure to test within the residents' houses...no reasoned methodology to support the approach it had taken...and no reason for its use of four different laboratories to support its findings".
He added: "In our view, in light of the available evidence, there remains the potential of 'significant risk of significant harm' to the local residents, and the latest report does not offer any comfort to them."