Two arrested in Neil Lennon bomb probe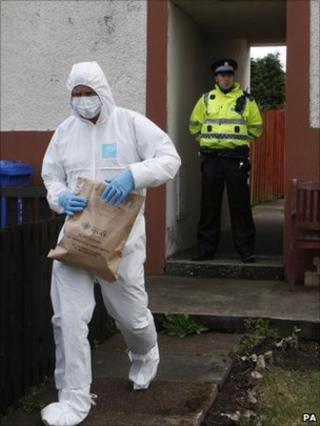 Two men have been arrested by police investigating parcel bombs sent to Celtic manager Neil Lennon.
Strathclyde Police said the arrests followed raids in Kilwinning, Ayrshire, where one suspect package was discovered in a postbox.
Devices were also sent to two prominent Celtic supporters, as well as a Republican supporters group.
A 41-year-old man and another, aged 43, have been charged under the explosive substances act.
They are expected to appear at Kilmarnock Sheriff Court on Friday
Meanwhile, police have confirmed that they are investigating a suspicious package at Celtic Park.
That package was discovered at the club's stadium on Thursday morning.
However, Strathclyde Police stressed that the suspicious package discovered at Celtic Football Club on Thursday was not being linked to the arrest of the two men in Ayrshire.
Their arrest follows the discovery of four devices, which had been sent to Mr Lennon, his lawyer Paul McBride QC and former MSP Trish Godman, in March and April
Another device was sent to Glasgow-based Irish republican group Cairde Na h'Éireann.
Strathclyde Police said their operation in Kilwinning began at 0600 BST on Thursday, when officers armed with warrants entered a number of properties.
Ch Supt Ruaraidh Nicolson said: "I would expect that there will continue to be a fair amount of activity in this area throughout the day.
"I appreciate that this may be inconvenient to people who want to go about their daily business.
"I can assure you that we will be doing everything we can to keep disruption to a minimum and to get the local area back to normal as quickly as possible.
"I would say, though, that if anyone has any concerns, please speak to one of the officers at the scene or call your local police station."
Police have also been keeping First Minister Alex Salmond informed about the developments.
Mr Salmond said: "I was briefed early this morning by Assistant Chief Constable Campbell Corrigan on the police operation.
"I am very pleased and satisfied that the police are making substantial progress in this important investigation.
"I am sure that satisfaction will be shared by the Scottish public as a whole."
The raids come the morning after a man was detained in connection with an attempted assault on Neil Lennon on the pitch at Tynecastle, in the game between Hearts and Celtic.
Strathclyde Police are also investigating the suspect package found at Celtic Park on Thursday, which is believed to have contained as bullet.
Celtic chief executive Peter Lawwell said the attacks, threats and intimidation directed at his club and its staff were "Scotland's shame".
In a statement, he said: "It is intolerable that any football club, or individual, going about their lawful business in the name of sport should be subjected to this ongoing campaign of hatred and intimidation.
"This is Scotland's shame and it is high time Scotland addressed it."