Donald McDade jailed after stabbing Thomas Murphy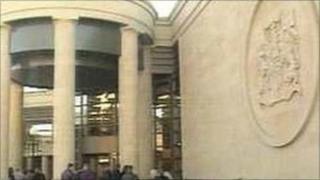 A man who stabbed his victim in the leg, triggering a fatal heart attack, has been jailed for three years and seven months.
Donald McDade, 50, was convicted of culpable homicide over the attack on Thomas Murphy at a flat in Balornock, Glasgow, in December 2009.
The High Court in Glasgow heard how the 58-year-old later died in hospital.
Judge Lord Matthews said the killing was at the "lower end of the scale" for such a crime.
The trial heard that Mr Murphy made a telephone call to the Balornock flat where McDade was.
It later resulted in a confrontation between the men, during which they both fell down the stairs.
The court was told that during the fight, McDade was struck with a walking stick and possibly with nail clippers.
Lord Matthews noted that the jury had by its verdict "absolved" McDade "from blame for the initial stages of the incident".
The judge said that it had found "that by striking Mr Murphy on the leg, you were responsible for triggering a fatal heart attack although on the evidence that may not have been the only trigger."
Lord Matthews said: "This case has features, however, which distinguish it from the normal sort of case where a knife is used resulting in death.
"Chief amongst those is the fact that the injuries themselves were relatively minor and the blows plainly were not intended to cause serious injury. Indeed the jury deleted the reference to severe injury."
The judge added that sentencing for culpable homicide could vary "from non custodial options to very many years imprisonment where the circumstances come close to murder".
"This case is at the lower end of the scale but I cannot give effect to the suggestion that a non custodial disposal would be appropriate," he said.