Inquiry into Legionnaires cases in Glasgow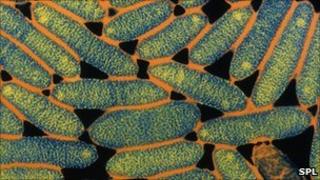 A rise in the number of people with Legionnaires Disease in Glasgow is being investigated.
The NHS Greater Glasgow and Clyde Public Health Protection Unit are to study the increase in the number of people being diagnosed.
Five people have recently tested positive, including an elderly man with underlying medical conditions who died last week.
A woman, aged 30, who has other health problems, is in a critical condition.
Three others are said to be responding well to treatment.
Health Protection Scotland and the Health and Safety Executive are also involved in the investigation.
Public Health consultant, Dr Syed Ahmed, said an investigation would be carried out to establish whether there is a common link.
"There are always a small number of cases of Legionella Pneumonia in the community every year," he said. "However this rise in the number of cases so close together is unusual.
"As a result we have begun an urgent investigation with HPS and environmental health colleagues today to examine if there is any potential common source or whether these cases are coincidental, albeit unusual.
He added: "At this early stage in these investigations we have established no link between the cases.
"It is important to remember that Legionella cannot be spread from person to person. It is an uncommon bacterial infection."
Legionella bacteria is found in water and can be spread through aerosols produced from water, such as air conditioning and showers.
Symptoms include headache, fever, dry cough, breathing difficulties, stomach pains and diarrhoea.