Tall ship Glenlee moves to new Riverside Museum berth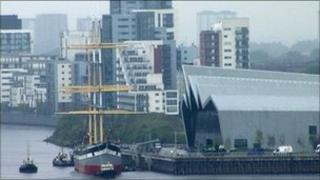 One of the world's last remaining Clyde-built tall ships has been moved to a new berth outside the Riverside Museum in Glasgow.
The Glenlee was towed from Yorkhill Quay to Pointhouse Quay on Thursday morning. The ship and new museum will open to the public on 21 June.
The Glenlee was built in Port Glasgow and first took to the water in 1896.
The Riverside Museum, on the banks of the River Clyde, will house the city's valuable transport collection.
The Glenlee was purchased in 1992 by The Clyde Maritime Trust, which is engaged in an ongoing programme of restoration.
During its sea-going life, the cargo ship circumnavigated the globe four times and tackled Cape Horn on 15 occasions.
The operation to tow the ship to its new berth, several hundred yards down the river, took about 30 minutes.