Carry-out killer Kayleigh Murray has jail term cut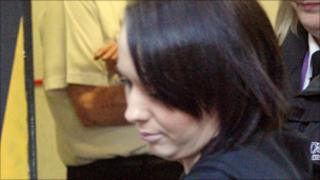 A woman who killed a father-of-two in Glasgow with a single punch following a struggle over his alcohol carry-out has had her jail term reduced on appeal.
Kayleigh Murray, 20, from Shettleston, admitted the culpable homicide of 29-year-old Paul Woods in the city's Maryhill Road on 28 July last year.
She was jailed for six years and nine months for the attack.
Appeal judges agreed the sentencing judge had been too harsh and cut her sentence to four-and-a-half years.
Murray's friend, 19-year-old Chelsea Speirs, from Springboig, was jailed for two years and three months after admitting stealing Mr Woods' alcohol.
Street attack
Both women were originally charged with murder, but the Crown accepted their pleas to reduced charges.
Prior to the fatal attack, Mr Woods had been in a pub in Maryhill Road last July watching football with friends.
When he left, he headed for a nearby off-licence to buy alcohol.
Murray and Speirs, who had been drinking for hours, got off a bus in Maryhill Road and saw Mr Woods standing outside a shop, waiting for a friend to be served.
Speirs demanded to know what Mr Woods had in the bag he was holding, then grabbed it and walked off after a brief struggle.
When Mr Woods tried to chase her, Murray attacked him.
Paramedics later found Mr Woods unconscious and bleeding from a head wound.
He was taken to hospital where a scan revealed further bleeding inside his skull.
An emergency operation failed to save him and Mr Woods died the following day.
'Considerable force'
Sentencing Murray at the High Court in Glasgow, Lord Pentland told her: "It is clear that your conduct was entirely unprovoked, violent and persistent. It was aggravated by drink."
The judge also explained his sentence of six years and nine months by saying that Murray must have used "considerable force" when she punched Mr Woods.
But at the Court of Criminal Appeal in Edinburgh, her defence QC Donald Findlay successfully attacked Lord Pentland's reasoning.
"His lordship has erred to the extent that one cannot say that this was a blow which must have been delivered with considerable force," said Mr Findlay.
"The fact of the matter is it was a single punch with a closed fist and it was certainly enough to cause him to fall backwards onto the road."
The lawyer said the fatal injury was caused by Mr Woods hitting the ground and doctors had found only "a minor abrasion" caused by the punch.
In the circumstances, argued Mr Findlay, Lord Pentland's sentence was too harsh.
Lord Bonomy, sitting with Lady Smith, cut the jail term to four-and-a-half years, saying that they would give reasons for their decision, in writing, at a later date.