Police want photos from unofficial Kelvingrove 'party'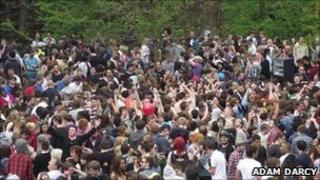 Police investigating scenes of disorder at a massive unauthorised party in Glasgow have appealed for revellers to send them their videos and photos.
About 6,000 people turned up at Kelvingrove Park, on the day of the Royal Wedding, after the event was organised through Facebook.
After trouble flared, police made 22 arrests, with 11 officers being hurt.
Police want anyone with images or footage of unrest, to e-mail them to Contactus@strathclyde.pnn.police.uk
Two teenagers organised the party through the social networking site, Facebook, but Glasgow City Council warned people not to attend, expressing concern over safety.
Officers injured
Although the party began peacefully, scuffles broke out and police officers moved in to clear the area.
Mounted officers were called in after reports that some police had been pelted with bottles.
More than 100 officers attended the incident.
One of the officers who was hurt was taken to hospital with a head injury but released after treatment.
Det Insp Fil Capaldi, of Strathclyde Police, said: "A major enquiry team has been set up and officers are currently trawling through CCTV footage in an effort to gather more information on the incident and trace those responsible for the trouble.
"We will ensure that those who committed crimes are traced and brought to justice.
"I know that many people who attended the park took photos and video footage, and I would urge them to forward their photos and footage to us to assist with our enquiries."
Police said that many of the 22 arrests had been for alleged offences of breach of the peace and culpable and reckless conduct.
Meanwhile, Glasgow City Council is to explore legal options for recovering the cost - £25,000 - of cleaning up Kelvingrove Park after the gathering.
The council warned beforehand that the gathering was not authorised and outlined concerns over health and safety.
Officials will also discuss the involvement of any clubs or licence holders in the event with the council's licensing board.