Glasgow Caledonian University reduces job cut plans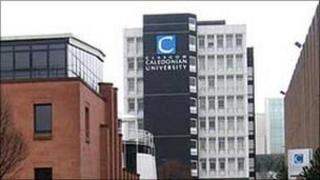 Glasgow Caledonian University is to save some staff posts that had been under threat of compulsory redundancy.
Management is currently conducting a 90-day consultation on proposals for cutting up to 95 jobs in a bid to save £5m from its annual running costs.
The university said so far enough savings had been proposed that would protect up to half these jobs.
However, a union said it would escalate its campaign unless the threat of redundancies was removed for all staff.
Restructuring plans were unveiled in March, to merge the university's six existing departments - or "schools" - into three larger ones.
A spokeswoman for the university said the consultation, which ends in June, had gone well so far.
"Indeed, today we were able to let staff know that the necessary savings had been achieved within the schools, and that the risk of compulsory redundancies had been removed for school-based staff," she said.
"We are making positive progress towards necessary savings for central support areas, and remain committed to role reduction through voluntary means wherever possible."
She said the university, which employs about 1,600 staff, would continue to consider any proposals that could protect the jobs still under threat in support areas, including human resources and marketing.
'Escalate campaign'
However, the Glasgow Caledonian University combined union committee claimed university management had refused to withdraw the threat of compulsory redundancies following a peace offering made by staff representatives last week.
The committee's convenor, Nick McKerrell, said they had offered to suspend their campaign in return for the removal of compulsory job losses.
Mr McKerrell said: "Our campaign has been a marked success but management are not listening. Therefore we will need to step it up a gear.
"All the unions on campus are now consulting on industrial action. Unison have already received a 97% yes vote in favour of action.
"Today as our management have rejected our offer, we are making a direct appeal to the university's governing body with a petition to the chair of court.
"We want to get as many staff as possible to sign to show the strength of feeling."
Final proposals for making savings are to be submitted to the university's governing body for consideration in June.