Neil Lennon bomb police probe fifth suspect package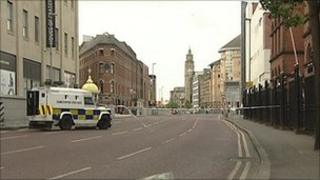 Police investigating parcel bombs sent to Celtic manager Neil Lennon and two other people have said another suspect package has been discovered.
The package was intercepted by postal staff in Northern Ireland.
Strathclyde Police said the parcel was similar to four already being investigated and was routed to a Belfast office by postal staff.
It is understood the package was sent to Cairde Na h'Éireann, a Republican supporters group based in Scotland.
The packages already discovered were designed to cause serious harm to the recipient.
The latest package - believed to be a parcel bomb - was found at the National Return Letter Centre in Belfast, where mail which has not been delivered and has no return to sender address is retained by Royal Mail.
It was then taken to a Police Service of Northern Ireland station.
Officers from Strathclyde Police believe it originally entered the postal system at about the same time as the devices already under investigation.
'Cowardly actions'
Two bombs were sent to Neil Lennon, one was sent to former MSP Trish Godman and one, addressed to Lennon's lawyer Paul McBride QC, was discovered at a postbox in Kilwinning in Ayrshire.
Ch Supt Ruaraidh Nicolson, of Strathclyde Police, said: "We'd like to stress that there is still no intelligence to suggest that these packages pose a threat to the wider public and we would urge people to remain calm.
"The person or people sending these packages are clearly determined to cause fear and alarm to the individuals or organisations concerned.
"This is an utterly despicable crime, committed by an individual or individuals who are prepared to put people in harm's way simply to attract attention to their callous and cowardly actions. "
A security alert had been sparked around the Police Service of Northern Ireland office on Musgrave Street in Belfast.
Army bomb experts were called to examine the package, which had been taken from the Royal Mail sorting office.
The package is being made safe and will be handed to Strathclyde Police for further investigation.
Cairde Na h'Éireann has premises in Glasgow, but it is understood the parcel was not addressed to any specific individual.
First Minister Alex Salmond said: "Let's be quite clear - the individual or individuals responsible for these disgraceful actions will be apprehended and dealt with with the full force of the law."