Former soldier who issued mosque bomb threat jailed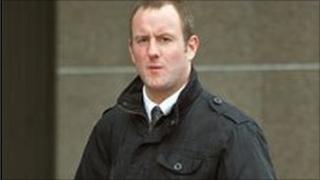 A former soldier who threatened to bomb Glasgow Central Mosque has been jailed for 12 months.
Neil MacGregor, 38, also said he would execute Muslims on a daily basis unless every mosque in Scotland was closed down.
He was originally placed on probation for three years, but breached the order.
Sheriff Lindsay Foulis said: "In this day and age to carry out the conduct he did is an extremely serious matter."
MacGregor, of Crieff, made the threats in an email and a series of telephone calls to Strathclyde Police in 2007.
Fiscal depute John Malpass told Perth Sheriff Court: "Because of the nature of the threat, senior officers and anti-terrorist officers were notified. Enquiries were made in relation to the source of the emails.
"The IP address was identified and traced to the accused's home address.
"Police attended the Central Mosque and carried out a search which proved negative."
'Proud racist'
MacGregor admitted breaching the probation order by disappearing to London after completing only one third of it.
Solicitor Craig Dewar, defending, said MacGregor had made the threats after viewing an internet clip of a beheading in Iraq, but had "no intention" of carrying them out.
He added: "He served in the military for a period of time. He may be suffering from post-traumatic stress disorder.
"He complied with the order for around a year.
"He then travelled to London and made no further contact. He was living with his partner in London."
Sheriff Foulis, revoking probation and jailing him for a year, said: "It was a matter which the authorities, not surprisingly, took very seriously and reacted to in the manner described."
MacGregor, who is originally from Derbyshire, had his sentence for racially breaching the peace backdated to last month, when he was arrested.
When he initially admitted the offence at Glasgow Sheriff Court in 2009, his email was read out which stated: "I'm a proud racist and National Front member.
"We as an organisation have decided to deal with the current threat from Muslims in our own British way, like our proud ancestors.
"Our demands are very small. Close all mosques in Scotland.
"If our demands aren't met by next Friday, we'll kidnap one Muslim and execute him or her on the internet, just like they did to our Ken Bigley."