Glasgow Caledonian University sets out 95 job cut plans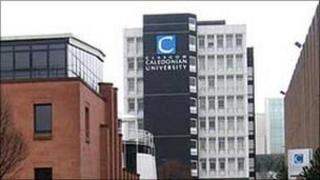 Glasgow Caledonian University has contacted staff with outline proposals for cutting up to 95 jobs in a bid to save £5m from its annual running costs.
Management want to merge the university's six existing departments - or "schools" - into three larger ones.
Ideas on how to achieve the cuts have been sent to staff as part of a 90-day consultation process.
Unions have said they will fight the proposals and accused the university of ignoring alternative ideas for savings.
Glasgow Caledonian has previously said it needed to make savings of £12m per year by 2014 due to cuts in funding from central government.
It has already made £5m, with £7m still to find. The latest proposed savings, if achieved by July 2012, would meet £5m of that balance.
Post reductions
A spokeswoman for the university said letters and emails sent to staff on Wednesday listed ways in which the savings could be achieved.
"The ideas being shared with staff are proposals on how the university's central administrative and support services might be restructured to secure our long-term sustainability and deliver upon our future plans," she said.
"No decisions have been made, and while it has already been announced that the university could see a reduction of up to 95 administrative and support posts, we remain committed to achieving role reductions through voluntary means and we are considering every alternative.
"Significant savings have already been identified from non pay costs and these will be incorporated into our plans, reducing the number of roles that may be lost."
The university currently has six academic departments - built and natural environment; Caledonian business school; engineering and computing; health; life sciences and law and social sciences.
Under new proposals, these would be merged into three larger schools - health and life sciences; engineering, computing and the environment; and business, law and social sciences.
Those jobs most at risk in each department are in senior management, administrative and support services, and marketing and human resources.
Glasgow Caledonian currently employs 1,613 staff, so the proposed jobs cut would affect about 6% of the workforce.
Alternatives proposed
The university's combined union committee said the proposals were disgraceful when set against the "escalating budget of senior management salaries and perks".
Committee convenor, Dr Nick McKerrell, said: "Front-line staff providing critical services for students will go whilst there are proposals to increase the size of senior management. It is breathtaking. These cuts will have a direct effect on students' teaching and learning experience.
"This is clearly a cost-cutting exercise yet the trade unions have proposed alternative areas of review where money could be saved without one redundancy let alone 95.
"These are in the areas of capital spending, the size, salary and expense accounts of our senior management which have grown massively in the last few years and the failing campus in London where despite spending £3m only 60 students have been attracted."