North Lanarkshire Council demands 'toxic homes' data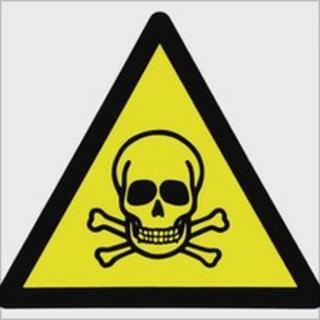 Lawyers acting for residents who fear their homes were built on contaminated land have been told to hand over the results of their own testing.
North Lanarkshire Council said it would serve a statutory notice on Collins Solicitors to compel the firm to hand over data about the Motherwell site.
Collins said the council did not have the power to demand "the production of confidential health data" of clients.
It said "any attempt to obtain such material will be strenuously resisted".
Last year, the council said it had found traces of trichloroethylene, or TCE, - a potentially harmful chemical - in open ground close to homes in Forum Place, Romulus Court, Empire Way and Tiber Avenue.
In a letter to residents, the authority said the levels found presented "no immediate risk" to householders.
'Bad science'
Last week, Collins said some chemical traces on the Watling Street estate "far exceed stipulated safe levels".
The council responded by accusing the firm of using "bad science" and "scaremongering".
The authority has now said it intends to serve a statutory notice under Section 108 of the Environment Act 1995.
This would compel Collins, who act for some residents at Forum Place, Motherwell, to release the full results and methodology of testing the firm claims to have carried out in up to 20 homes.
The local authority said it had asked the Watford-based firm to share its "results and methodology" but Collins had "declined to do so".
The council's head of protective services, Crawford Morgan, said: "We wrote to Collins last week to ask them for the test results and methodology referred to in their press release but, disappointingly, the information has not been provided.
"Clearly our first concern must be for the residents involved. As the council is the statutory enforcing authority in this investigation, it is important we have all available information which may assist.
"We have been left with no choice but to serve a Section 108 notice on Collins.
"This notice gives Collins a few days to provide the information we have asked for and we would urge them to do so. Failure to comply with a Section 108 notice is a criminal offence."
'Aggressive stance'
Collins said it regretted the council's "aggressive and intimidating stance" against "the residents' justified concerns" over possible contaminated land.
The firm said that the council did not have the power it was claiming under the Environment Act and had "no right whatsoever to insist on the production of confidential health data relating to the residents".
"This material is privileged," the firm said. "It came into existence for the purposes of potential litigation which, given the intransigence of the council, now seems increasingly likely."
Des Collins, of Collins Solicitors, added: "At all times the residents have shown themselves anxious to cooperate with and communicate their concerns to the council but have been met by a significant lack of response."