Zoe Nelson murder: Robert Bayne found guilty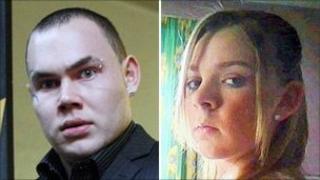 A man is facing a life sentence after being found guilty of murdering 17-year-old Zoe Nelson and burning her body in woods in North Lanarkshire.
Robert Bayne, 21, attacked the teenager, put a plastic sheet over her face and set her on fire, near Cambusnethan, Wishaw, in May last year.
He was also found guilty of attempting to defeat the ends of justice.
Bayne had to be physically restrained as the jury delivered their unanimous verdict at the High Court in Edinburgh.
The handcuffed bodybuilder jumped up in the dock and began struggling violently with security officers and police - headbutting one of them.
He also shouted insults and threats at Zoe Nelson's family, forcing the court to be cleared while officers restored order.
After a 20-minute adjournment, judge Lady Dorrian agreed to recommence the trial in Bayne's absence.
In light of Bayne's earlier behaviour, she said: "I don't think the matter can continue under any other basis."
The jury of seven men and seven women then confirmed their verdict of guilty of murder.
Judge Lady Dorrian will tell Bayne next month how long he must serve in prison.
Speaking on behalf of the family after the verdict, Zoe's uncle, Steven Hynes, said Bayne "deserved it".
He added: "His reaction in court just shows how threatening he is. He's an animal. He knows he's guilty, end of story."
The court heard that Bayne repeatedly struck Zoe, from Newmains, on the head and body, placed a plastic sheet or similar item over her head, thereby restricting her breathing, and by means unknown otherwise inflicted injury on her.
Motherwell College student Zoe, who was said to have been in a relationship with Bayne, was seen leaving her Newmains home at 1700 BST on 22 May 2010.
She was later seen on CCTV footage in a local store at about 1730 BST.
Residents reported seeing a fire in woods, known as Monkey Hill, later that evening.
A member of the public found her badly burned body there the following day. He told the trial he initially believed it to be a charred tailor's dummy, but soon discovered it was a corpse.
Bayne 'controlling'
Jurors also heard that Zoe had told a close friend she used to go out with Bayne, and said he was "controlling" and would not allow her to see some of her friends.
The prosecution also presented evidence which showed that traces of DNA found on Zoe's remains matched samples taken from Bayne.
Bayne was found guilty of murder and of a second charge of attempting to defeat the ends of justice by setting fire to Zoe's body, washing and disposing of items of clothing worn during the murder, disposing of her mobile phone and falsely stating to police that another person had admitted to the crime.
He also previously showed "malice and ill-will" towards her.
Lady Dorrian told members of the jury: "This has been a somewhat distressing case, and stressful for you, but I can see from the verdict returned you paid very careful attention to the evidence in the trial."
Lady Dorrian indicated she would have no choice but to deliver a sentence of life imprisonment. She deferred sentencing until 27 April for psychiatric and social background reports.
Following the court hearing, Supt Derek Robertson, who investigated the murder for Strathclyde Police, said Bayne "showed no remorse for his vile actions or the effect this murder had on Zoe's close family who remain devastated by her loss".
He told BBC Reporting Scotland: "You can see Robert Bayne is a volatile character. His aggression was borne out in the attack, that was brought up at the trial.
"Today when the verdict was raised you saw what he can do. So, the streets will be a lot safer and hopefully the Nelson family can move on knowing that he is behind bars."